In today's economy, many investors are considering adding precious metals to their investment portfolios to protect their wealth against the ravages of inflation and a volatile stock market. While including these commodities in your strategy can be easy as buying and storing them, opening a precious metals IRA account requires you to follow additional rules in order for your investment to qualify.
Gold and Silver Coins
Until 1997, the IRS only allowed gold and silver American Eagle coins issued by the U.S. mint to be included in a precious metals IRA, but now more kinds of coins, along with gold and silver bullion, have been deemed acceptable. You can also include platinum and palladium just as long as they meet IRS standards. Unfortunately, if you are heavily invested in collectibles/rare coins containing precious metals such as jewelry and antiques, these are still unacceptable.
Levels of Purity
In order to qualify for a precious metals IRA, coins and bullion have to reach a level of certifiable purity. In other words, that bag of old silver dollars your grandfather left you might be of some numismatic value to coin collectors, but these coins do not meet the following IRS standards:
Gold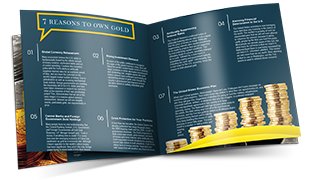 Learn everything you should know about investing in precious metals.
Request the Free Guide
Gold coins and bullion that are 99.9% pure (24 karats) are acceptable just as long as they have been certified by a COMEX or NYMEX-approved assayer or refiner. Bullion bars of this purity come in a range of sizes from 1 troy oz. to the enormous 400 oz. bars that have become the standard used for international trade. 24-karat gold coins such as the gold American Eagles, Canadian Gold Maple Leafs, and Austrian Gold Philharmonics have also been approved by the IRS. The only exception this rule is the 22-karat American Eagle gold coin.
Silver
Only fine silver coins and bullion (.999 or higher) can be included in a precious metals IRA, which is why U.S. silver coins minted before 1965 are not allowed because they contain higher percentages of base alloys. Fine silver bullion bars can be purchased in 100 and 1000 troy oz. amounts, and silver coins such as Silver American Eagles, Mexican Silver Libertads and Canadian Silver Maple Leafs also meet IRS standards.
Platinum and Palladium
Coins and bullion made from platinum or palladium are also acceptable if they are at least 99.95% pure (.995 or higher) and come from a refiner/assayer approved by NYMEX or COMEX. Because the market for platinum and palladium is much smaller than that of gold and silver, there are fewer options to choose from. You can purchase platinum or palladium as bullion bars between 1 and 100 troy oz. Acceptable platinum coins have been issued by the U.S. Mint (American Eagle platinum coins), though platinum coins from Canada, Australia and the United Kingdom may also qualify.
Be Lawful When Purchasing for a Precious Metals IRA
Purchasing precious metals that meet IRS standards is only the first step when it comes to establishing a precious metals IRA, as there are additional rules that can render your investment subject to taxation if they are not followed correctly. Conducting your own research as well as consulting a professional IRA consultant with experience in precious metals, like those at Scottsdale Bullion and Coin, can help you avoid running afoul of the law.