Buy Silver Bars
Looking to sell this coin? Get cash today! Request free appraisal.
Looking to sell silver bars? Get cash today! Request free appraisal.
Why Buy from Scottsdale Bullion & Coin
About Silver Bars
Silver bars have remained a consistent favorite among investors looking to diversify their portfolios. While not as popular as gold bars, silver bars are still known for their inflation resistance, high liquidity, and consistent store of value. For centuries, they have provided an additional layer of protection against economic uncertainty for those looking to conserve their wealth through challenging times. Silver bars come in various shapes, sizes, and designs, giving investors a lot to choose from. They're produced both by private and government mints too. Despite their inherent value, silver bars might not be the best choice for every investor.
Common Weights of Silver Bars
Silver bars are minted and sold in a range of sizes to allow investors to hold different values more conveniently. These bars are differentiated by weight as measured in troy ounces or grams, depending on the specific type of silver bar. Investors can choose from varying sizes including 1/2 oz, 2 oz, 3 oz, 4 oz, and a plethora of other odd weights. 1,000 oz. silver bars are the largest in production while 1 oz. and 10 oz. bars are the most popular. Scottsdale Bullion & Coin sells all kinds of premium-quality silver bars from the top government and private mints including Royal Canadian Mint (RCM), Sunshine Mint, Engelhard, Nadir, Johnson Matthey, Valcambi, Credit Suisse, PAMP, and Perth Mint - just to name a few.
1 oz silver bars *MOST POPULAR*
The 1 oz. silver bar is a highly popular pick among the varying size options available. It's also one of the most commonly minted both privately and by governments. It's tough to go wrong with this highly liquid, in-demand, and easy-to-store option.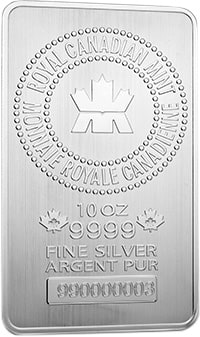 10 oz silver bars *MOST POPULAR*
The 10 oz silver bar is ideal for investors who are looking to store more of their wealth in silver than would make sense with a 1 oz silver bar. The 10 oz bar is another highly sought-after weight because it can store a lot of value while remaining manageable and in demand.
Kilo silver bars
Kilo silver bars, as the name suggests, weigh 1,000 grams which is equivalent to 32.1507 troy ounces.
100 oz silver bars
The 100 oz. silver bar is among the largest silver bullion on the market, making it an impressive store of value. However, this dense and sizeable bar is difficult to store which might attract institutional investors more than the average individual.
Silver Bars by Grams
Silver bars are most commonly minted, sold, and labeled in ounces. However, there are some mints that offer silver bars in grams instead. Since it's a smaller unit of measurement when compared to an ounce, a gram is often used to label smaller silver bars. If you want to start diversifying your portfolio without spending too much, silver bars weighted in grams can offer smaller investment increments. In addition to offering silver bars in ounces, SBC also deals this precious metal asset in grams.
Various Sizes
1 gram, 2 grams, 5 grams, 10 grams, 20 grams, 100 grams, 250 grams, & 5000 grams.
Popular Silver Bar Products
There's no shortage of silver bar products available on the market, but some of these assets have earned a better reputation than others. Here are a few of the more popular silver bar options:
How To Buy Silver Bars
If you're in Arizona, you can walk into our office during business hours to buy. You can also call in to place an order, use our live chat function, or request a quote directly from our website.
Are Silver Bars a Good Investment?
Silver bars are a popular asset for investors looking to increase their exposure to this precious metal in larger quantities than coins or jewelry would offer. However, the unique qualities of silver bars might make some investors think twice. It's important to understand the basics of buying silver before making a decision. Here are some of the advantages and downsides of silver bars:
Pros
Provide a reliable hedge against inflation
Great for investing large sums in silver
Minted in various sizes for dynamic investing options
Offer quick liquidity when needed
Cons
Hard to store due to large size and weight
Don't provide the rarity or collecting features of numismatic coins
Presents the risk of buying fake silver bars
Silver bars are great stores of value with a history of providing protection against inflation and other economic pressures. The real value of an asset, however, is determined by its ability to support your investment goals. You can schedule a free strategy session or download a free investment guide to determine the best investment options for you.
Silver bars have been a popular store of value for millennia. Their usage dates all the way back to Ancient Egypt at a time when silver was actually more valuable than gold due to its relative scarcity in the region. Ever since, silver bars have been regularly purchased, traded, and sold by investors looking to increase their portfolio exposure to this valuable precious metal.
The value of a silver bar is directly determined by the price of the precious metal. The various factors impacting silver prices are in constant fluctuation which results in an ever-changing value for silver bars. However, silver has earned a reputation as a stable asset and a reliable store of value because of its relatively steady price action over time. Silver bars tend to maintain their value even during times of economic uncertainty which is especially important to investors.
When determining the value of a specific silver bar, appraisers will take various factors into account including the bar's size, mint, shape, design, and the price of silver at the time. The value of a 1 oz. silver bar, one of the most popular versions, based on today's spot price of silver is $20.77.
Looking to sell silver bars? Get cash today!