To understand the importance of adding rare coins (also referred to as numismatic coins and investment coins) to your investment portfolio, it is helpful to first compare rare coins with financial asset investments like stocks and funds. This will help you learn how holding physical assets like gold and silver rare coins can provide a hedge against currency devaluation, inflation, and even economic collapse. More than that, you will understand how investing in rare coins helps investors profit in almost any kind of economy.
Paper investments represent partial ownership in a company, and the value of those assets will rise and fall with the value of the company. Meanwhile, paper or digital stocks do not have intrinsic value on their own. Coins that are made out of precious metals like gold and silver, on the other hand, have an intrinsic value and may also have a collectible value. While the value of bullion coins lies primarily in their precious metal content, the value of rare coins is mainly determined by their quality, rarity, and historical significance, which is the extrinsic value of the coin. Also, each investor has total control over the type and amount of coins in their portfolio, but the vast majority of stock investors have little control over the actions of the company they invest in.
Rare Coins Explained
The first thing to understand about rare coins is that their value is determined by several factors. Any one of these factors may have more or less bearing on the price of the rare coin:
Dealer Inventories (Supply)
Pricing
Grading
Populations
Quality
Cyclical Timing
Collector Demand
To understand this better, consider the value of a 1921 silver dollar, for instance. According to PCGS, a premier coin grading service, the market value of a 1921 Peace Dollar that is graded as MS-67 and high relief is over $52,000. The Mint only produced proof (high relief) Peace dollars in 1921 and 1922 (proof coins are struck with a special process to produce a high-quality surface for collectors, and they are not usually circulated).
Whereas the bullion or melt value of these 90 percent silver coins may only be about $16, given a $20 an ounce silver price for the day, for example, the price for a Peace Dollar can be much higher due to factors mentioned above.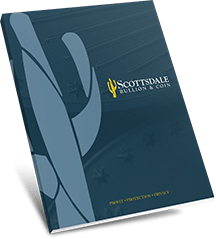 Everything you need to know to get started in Precious Metals
Learn how precious metals can strengthen your portfolio, protect your assets and leverage inflation.
Request the Free Guide
Evidently, many aspects contribute to the price of the most valuable coins. The principal ones are typically rarity, demand, and quality. The value of both rare U.S. coins and rare foreign coins can also be impacted by outside market factors, such as inflation and the performance of other investment vehicles and government policies.
How Are Rare Coins Graded?
The grade of a coin greatly impacts its value; thus, it is important that a credible expert examines the coin in order to establish its rare coin value. The two largest coin-grading services are the Professional Grading Service (PCGS) and the Numismatic Guarantee Corp (NGC). Upon grading, these two services place the coins in a sealed and tamper-proof plastic slab. Both buyers and sellers place value upon these graded and slabbed coins, so consumers are assured of the coin's legitimacy and quality.
Reasons to Invest in Rare Coins
Tax advantages: There are several tax advantages to holding rare coins. These include possible exemptions from sales tax and the fact that the growth in value of rare coins does not get taxed until they are sold. This is different than getting yearly tax statements from banks and stock accounts.
Profits: Of course, the benefits of investing in both bullion and numismatic coins extend beyond taxes. Dr. Raymond E. Lombra, an economics professor at Penn State, recently conducted a study of rare coin investing performance over the last three decades. He says that high-end coins (origin/quality) have outperformed stocks, and he recommends that investors choose quality rare coins. In fact, quality rare coins outperformed all other asset classes in the best three years of the study.
Another advantage of investing in rare coins is that novice collectors and investors on a limited budget can find good quality coins with growth potential in a variety of price ranges. Understanding how to purchase quality investment coins and how to take advantage of their value is your best guarantee of profits and security.

Have questions? Let one of our knowledgeable Gold IRA consultants answer all of your questions on physical gold IRA investing. No high-pressure sales.
Get Free Answers Today by Calling
1-888-812-9892