"[Rare coins] is where the real money has been made in the [precious metals] marketplace."

– Eric Sepanek, Scottsdale Bullion & Coin Founder
Last year, rare coins led the charge in providing excellent returns for our investors. In fact, the whole collectibles market – everything from cars and art to baseball cards and coins – experienced massive appreciation throughout 2022 with a significant annual build-up in the years prior.
Just how big we're these gains?
Well, last year, the top 10 most valuable coins fetched over $1 million…apiece!
The 1821 Capped Bust Dollar lead the pack with a record-setting sale price of $4.62 million. A 1927 D-Saint with a rating of MS66 wasn't far behind with an equally respectable price tag of $4.4 million. Think that's impressive?
We only must look back to 2021 for the all-time world record of the most valuable coin ever sold. The legendary and exceptionally rare 1933 St. Gaudens Double Eagle, the only one of its kind authorized for private ownership, went for $18.87 million, nearly doubling the previous sales high.
Those are formidable gains, but you don't have to invest millions to take advantage of similar appreciation. The diversity of the rare coin market offers plenty of entry levels for investors with all kinds of budgets.
Here are a few rare coins we've hand-selected for our clients that have significant upside potential.
1896 Barber Quarter PR69 (Star) Cameo
This coin's already limited mintage of 762 is even further pronounced considering only two 1896 Barber Quarters exist at a near-perfect NGC PR69 (⭐ Star) rating. This illustrious coin is just a hair away from being flawless, contributing to an impressive evaluation of $45,000.
Where is this coin headed in the future?
"When you have only one of two in the world, only time can tell." – Eric Sepanek
The outlook is incredibly bullish for this stunning Barber Quarter as we've seen similar coins jump over $100,000 in value. The key is to get in early and hold for the long run.
1860 Seated Liberty Dollar MS65
We've never seen a Seated Liberty Dollar in better condition than this MS65-rated 1860 version. In fact, only one in existence is graded higher out of the six surviving coins.
The initial mintage of 1,000 for this year of the Seated Liberty Dollar dwindled rapidly as exported coins were melted by foreign countries that were only interested in their bullion value.
The rarity of this Seated Liberty Dollar is augmented by its beautiful, white tone. It's nearly proof-like in appearance with a mesmerizing luster.
Although the NGC Price Guide places the coin at $65,000, we're able to broker this exceptional coin at only $55,000. A buy-in at this price point is a nearly guaranteed homerun when holding for 5-10 years.
1799 Draped Bust Dollar MS63
Ending on one of Eric's favorite coins, we look to a 1799 Draped Bust Dollar. This coin earned a respectable grade of MS 63 with an NGC population of just 22. Only 24 in the world are rated higher.
This coin boasts an exemplary strike featuring ideal oxidation which proves the coin has never been polished – a crucial feature of rare coins. A rainbow iridescence is visible as light hits this beautiful Draped Bust at different angles.
Draped Bust Dollars enjoy high demand among investors and collectors alike. This version is issued at $58,500 and makes a worthwhile inclusion for sizeable portfolios.
Rare Coins Deserve Space in Your Portfolio
There's no question that rare coins deliver unmatched appreciation to investors when held for extended periods of time. They're excellent assets for parking your money for five, ten, or even twenty-five years when seeking to build a robust and valuable nest egg that offers significant returns.
What rare coins have over other collectible assets is their inability to be reproduced, recreated, or restored. There's no faking a highly sought-after and valuable rare coin. It must be perfect from the start to be considered for investment.
Reach out to Scottsdale Bullion & Coin or your dedicated SBC Advisor directly to learn more about these rare coins or other hand-selected investment grade coin options.
If you'd like to learn more about investing in investment grade coins, download our FREE Investment Grade Coins report.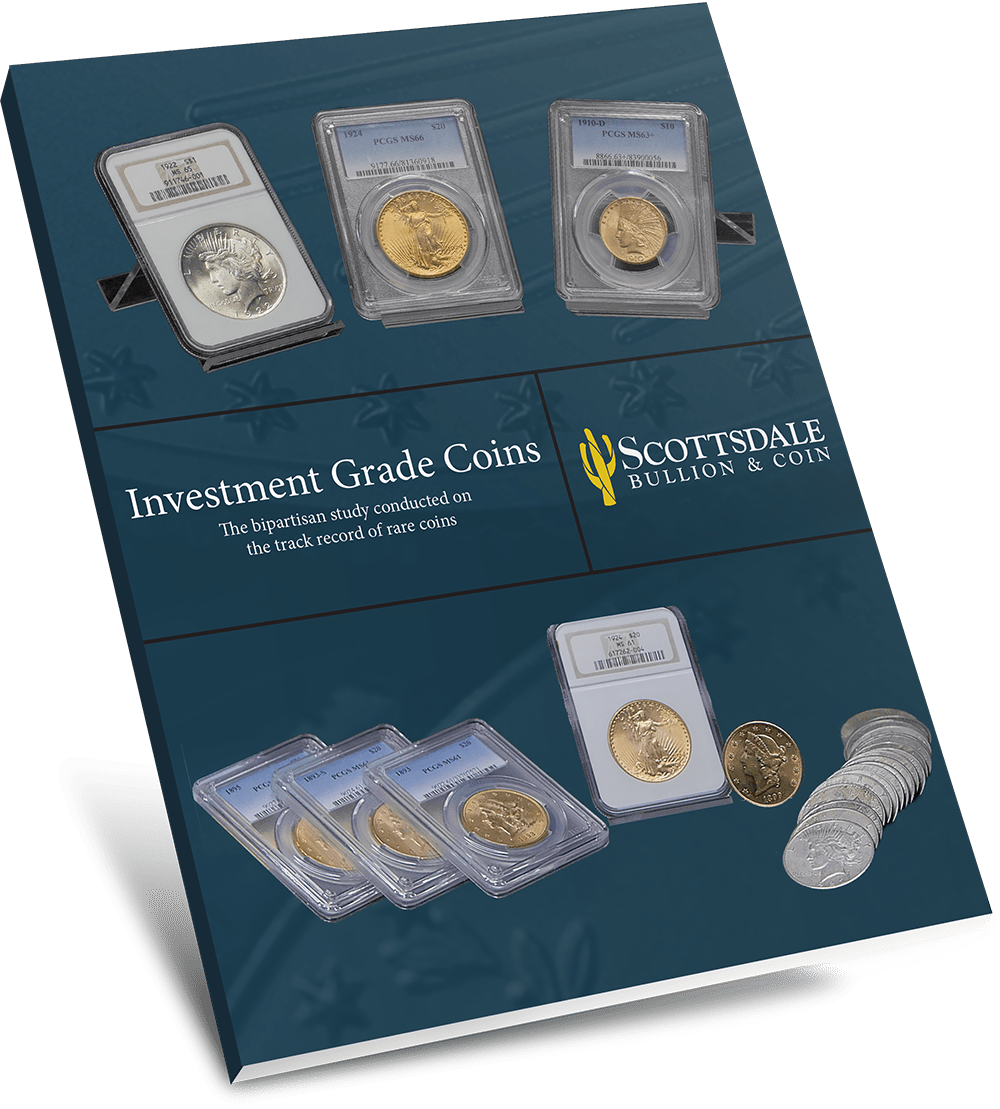 Get more out of your gold & silver investments. Read our free, data-backed investment report now.
Get Free Report