Since silver is considered an industrial metal as well as a precious metal, the trade war has had a greater impact on its prices than gold's. This was especially evident last week as prices for the white metal seesawed when the trade war with China suddenly worsened right after markets had been expecting a de-escalation. Higher oil prices and foreboding stock market indicators also moved the silver markets.
Want to learn more about silver's traditional price movers? Check out "10 Factors that Influence Silver Prices."
Silver Price Movement Indicators
Monday, July 30, 2018
Higher Oil Prices
After four weeks of losses, U.S. crude rose back above $70 a barrel on Monday—its best daily dollar gain in more than a month. West Texas Intermediate crude finished the trading session up $1.44 at $70.13 a barrel.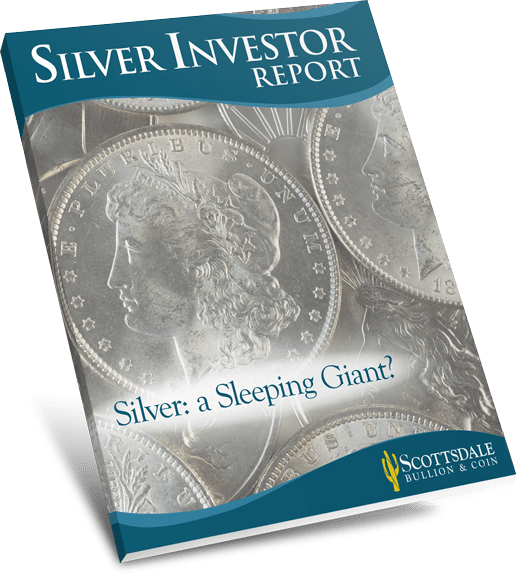 Unlock Silver Investor Trade Secrets in our Investor Report.
Get Your Free Report
The surge in prices was prompted by concerns over global oil shortages following an escalation of the Yemen conflict. As the international deadlines for businesses to cut ties with Iran under renewed U.S. sanctions approach, Iran is following through on threats to interfere with oil exports in the Red Sea, one of the busiest regions in the world for transporting the fuel. Iranian-backed Houthi rebels in Yemen attacked two Saudi oil tankers on July 25, prompting Saudi Arabia to suspend oil shipments through the Bab al-Mandeb strait. Compounding the supply problem is an ongoing heavy crude outage at Canada's Suncor Energy.[1]
Higher oil prices are viewed as an inflationary signal. Over time, they can also stunt economic growth as producers pay more at the pump. When such economic conditions set in, investors buy gold and silver to protect their portfolios. Silver prices rose slightly on Monday from a low of $15.38 at 3 am to a high of $15.51 at 1 pm.
Tuesday, July 31, 2018
Decreasing Geo-Economic Risk
Investors were optimistic about a potential resolution to the U.S.-China trade war following a Bloomberg report on Tuesday that representatives of Chinese Vice Premier Liu He and U.S. Treasury Secretary Steven Mnuchin were discretely discussing ways to reengage in negotiations. After a recent fall that elicited fears of a currency war, the yuan strengthened against the dollar. Precious metals prices climbed as the markets prepared for smoother international trade relations.
'If they do negotiate and something good comes out of it, it is positive for metals, because it would help the Chinese come back into the market and take deliveries. There's been some worry about the Chinese not taking deliveries because of the tariffs and expensive dollar,' explained the managing director of RBC Wealth Management, George Gero.[2]
Geo-economic risk usually increases demand for safe haven precious metals; however, investor fears initially resulted in a commodities selloff that included industrial metal silver. The white metal benefitted from the potential turn of events: silver prices rose to a high of $15.54 from noon to 1 pm, gaining .3 percent.
Wednesday, August 1, 2018
Increasing Geo-Economic Risk
Just when the markets started to anticipate a de-escalation of the U.S.-China trade war, the news broke on Wednesday that President Trump was proposing to up the ante by increasing the tariff from 10 percent to 25 percent on $200 billion worth of Chinese imports. U.S. Trade Representative Robert Lighthizer explained that the increase was being considered because China imposed retaliatory tariffs on U.S. imports and refused to comply with U.S. demands.
Groups lobbying on behalf of U.S. businesses were quick to condemn the proposed raise in tariffs over concerns they would hinder economic growth. 'Each tariff escalation leads to further retaliatory action from China—ultimately inflicting even more harm on American businesses, workers, farmers, ranchers, and consumers,' said the head of international affairs for the U.S. Chamber of Commerce, Myron Brilliant.
The price of silver, along with other industrial metals, pulled back as the news shook the markets: the high of $15.44 in early trading dipped to the low of $15.35 from 5 pm to 6 pm.[3] While traders may be unloading base metals in anticipation of decreased demand from China, savvy long-term investors are taking advantage of bargain gold and silver prices to protect their portfolios in the event that the trade war triggers an economic crash or accelerates the pace at which the next one hits.
Thursday, August 2, 2018
Stronger Dollar
The Fed's announcement on Wednesday to stay the course with continued interest rate hikes and the escalation of the trade war with China sent investors to the greenback on Thursday. The ICE U.S. Dollar Index, a measure of the dollar's strength against a basket of six other currencies, climbed .5 percent to 95.095 for a week-to-week gain of .4 percent. This made assets pegged to the dollar more expensive for investors in countries whose currencies weakened against the greenback.
As the dollar ascended, silver prices dipped from the high of $15.41 at 5 am to the low of $15.26 at 10 pm.
The dollar may be strong now, but many experts predict it will fall soon. Read "When Will the Dollar Crash?" to learn more.
Friday, August 3, 2018
Stock Market Crash
Chants that the "stock market is overvalued" have grown louder in recent years and now even the "Buffett Indicator" is signaling that equities are primed for a crash. Named after famous investor Warren Buffett, this measurement is calculated by dividing the total market value of all stocks by the gross domestic product.
Stocks are considered overvalued when the ratio equals over 100 percent. Currently, the Buffett Indicator is at nearly 149 percent—the highest level in history! The ratio reached 145 percent prior to the dot-com bubble bursting and about 110 percent just before the financial crisis. Factor in the flashing red signs of the coming recession—declining homes sales and the potential for the U.S. Treasury bond yield curve to invert as the Fed continues to raise interest rates—and the nation could be in serious trouble soon.
When stocks plummet, safe havens skyrocket. By 11:30 am on the last trading day of the week, silver prices had worked their way up from the 4 am low of $15.22 to the high of $15.52.
What is the price of silver right now? See our Spot Silver Price Chart.