When you first venture into the silver coin market, it's common to assume silver rounds and bullion coins are identical due to their similar size and shape. In reality, these two assets vary in significant ways, making it critical to understand the unique characteristics, values, and uses of each silver product.
Silver Rounds vs Silver Bullion Coins
| | Silver Rounds | Bullion Coins |
| --- | --- | --- |
| Minting | Minted by private companies | Minted by official government entities |
| IRA Eligibility | Can be used for precious metals IRA depending on purity rating | Can be used for precious metals IRA depending on purity rating |
| Denomination | Don't hold any currency value | Backed by minting government as legal tender |
| Value | Only worth their weight in silver | Worth their weight in silver and can have additional value depending on rarity, history, or demand |
| Guarantee | Backed by the reputation of the dealer | Backed by the minting government |
The minting process is the most significant difference between silver rounds and silver bullion coins. Like most silver bars, silver rounds are only minted by private firms while bullion coins are exclusively produced by government mints. As a result, silver rounds carry no denomination, and their bullion counterparts are considered legal tender. Another difference is the numismatic value inherent to some bullion coins which can derive from scarcity, history, demand, and other factors. On the other hand, silver rounds are essentially only worth their weight in silver.
How to Spot the Difference Between Silver Rounds and Bullion Coins
Silver rounds and bullion coins might seem indiscernible to the untrained eye, but there are some key differences that can help silver investors distinguish between these discrete physical assets.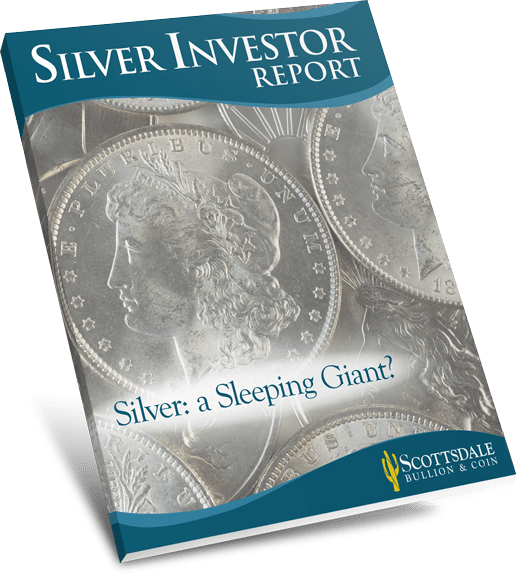 Unlock Silver Investor Trade Secrets in our Investor Report.
Get Your Free Report
Denominations
As mentioned before, silver bullion coins hold legal tender status despite having greater inherent value derived from their silver contents. This means silver bullion coins are emblazoned with their denomination while silver rounds aren't.
Designs
Many bullion and round designs are strikingly similar, but it's important to keep in mind that the latter can feature any depiction. On the other hand, bullion coins only carry designs approved by the official government mint.
Mint Marks
US bullion coins are only produced at official US Mint branches. These silver coins receive a mint mark denoting where they were manufactured:
Silver Bullion Mint Marks
| US Mint Branch | Mint Mark |
| --- | --- |
| Denver (CO) | D |
| Philadelphia (PA) | P |
| San Francisco (CA) | S |
| West Point (NY) | W |
Older bullion coins might hold mint marks from now-defunct mints like the famous Carson City mint, mint mark "CC".
Advantages & Downsides of Silver Rounds
Pros
The dealer premiums are usually lower for silver rounds.
It's possible to stack silver rounds from the same mint for easier storage.
Silver rounds are generally in high demand making for easy liquidation.
Ideal for bartering.
Cons
They don't carry any numismatic value and are only worth their weight in silver.
Silver rounds don't have advanced security features like some newer bullion coins e.g. 2021 and newer American Silver Eagle coins, Canadian Silver Maple Leaf coins, and Britannia Silver Coins.
The sheer volume and variety of silver round designs keeps investors from getting an accurate prediction of their future performance.
Advantages & Downsides of Bullion Coins
Pros
There's more data and information detailing performance potential, making it easier for investors to accurately gauge their future success.
Bullion coins are officially backed by the minting government.
They can carry additional value based on scarcity, demand, and history.
There's high demand for bullion coins which increases their liquidity.
Cons
Premiums are sometimes higher than for rounds. For example, Silver Eagle premiums are currently experiencing a significant increase.
Collectors who value unique and varied designs have a smaller selection of coins from which to choose.
Bullion Coins or Rounds: How to Decide Which Is Right For Your Investing Goals
Despite their surface-level similarities, there are striking differences between silver rounds and bullion coins. Any investor who diversifies their portfolio with precious metals needs to understand these distinct characteristics to make the best financial decisions based on their unique goals and investing strategies. Mistaking a bullion coin for a silver round or vice-versa can end up costing you a significant amount of time and money.
Request a free silver investor report to build a strong foundation for physical silver investing. If you're ready to discuss your investment goals in greater detail, reach out to a Scottsdale Bullion & Coin Advisor via our live chat function or by calling us. Our knowledgeable and friendly Advisors will help put you on the right path to achieving your financial objectives.