When people start looking to broaden their investment patterns for more diversity, bullion coins often come up as an option. Most people have a general idea that bullion coins may likely be made of gold or silver, but what exactly are bullion coins? What is important to know when looking to invest in gold and silver bullion coins?
What are Bullion Coins?
Bullion coins can be defined as high-grade precious metals coins suitable for investment purposes. Bullion coins are predominantly issued by a government agency, however, there are some cases where coins are produced by private institutions. That said, in almost all cases, the coin is almost completely made of a precious metal (90% purity and above), it has the amount of that metal stamped on the coin based on a standard metric, and it is also stamped by the agency that created the coin. So, for example, a Gold Eagle is crafted by the U.S. mint, authorized by the U.S. government, and has both the weight (1 troy ounce) and the purity, in some cases, included on its surface (see the Gold Buffalo issued by the U.S. mint).
Bullion coins can be bought directly from the government agency or institution that prints the coin, if supplies are available. Most are minted on a limited run, and some run out very quickly. That leaves the secondary market from which to buy gold coins—either coin dealers or private owners. People buy coins for various reasons but the big drivers are investment to profit on changes in precious metal values or for collection. Popular coins include the South African Krugerrand, the Canadian Maple, and the U.S. Gold Eagle coins.
Bullion coins can easily provide hedges for investment risk against areas such as currency or stock trading. When people buy gold and silver, they often do so as a safe harbor. Precious metals can run counter to economic performance, often rising in value when economies go bad. That makes them able to offset stock portfolios based solely on economic growth. People then may choose to sell gold and silver when the stock market begins to rise again.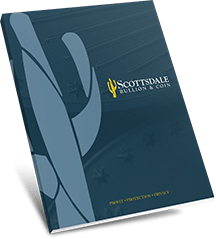 Everything you need to know to get started in Precious Metals
Learn how precious metals can strengthen your portfolio, protect your assets and leverage inflation.
Request the Free Guide
Bullion vs. Numismatic Coins
Numismatic simply means collectible. Numismatic coins are rare, old or valuable coins that are worth more than just their melt value because they are collector's items. A gold or silver coin (even platinum and palladium) can be both bullion and numismatic. By their manufactured nature the coins are bullion, but some specific years and types add value on top of the metal spot value of the coin, making them numismatic. Some specific coins can earn substantial premiums above and beyond the metal's bullion value simply due to the fact that the coin issue is extremely hard to find. Additionally, coins in very good or perfect issue condition will often be worth far more than circulated bullion coins. Finding a protected, rare issue makes a bullion coin unique, which is why collectors will pay a high price to get their hands on it.
To buy gold bullion or silver bullion for numismatic value, one needs to have a very good understanding of the collectable market. Often times, values will vary significantly from year to year. Remember, unlike a bullion price, a collectible coin is only worth what it can be sold for. Many buyers have been burned spending lots of money for a "collectable" and then selling it for far less.
Buying Bullion Coins
The two main reasons to invest in bullion coins are to hedge against other market investment forces and to start building future returns. Many gold coin purchases are held for a long-term period versus short trading. This is often so that the investment can recover both value and additional mark ups and commissions charged on coins for sale at the retail level. Even mints charge a markup over the spot price value of a new bullion coin. So some period of wait is needed to let the value appreciate.
Finding good sellers and buying gold coins means taking the time to find good sources. Government mints are always safe but supply is very limited. Licensed, established dealers like Scottsdale Bullion and Coin are other viable choices. There are private sellers and online auction sales, but these are high risk, so these options requires great caution. Two good sources for learning about where to buy gold include tips from the Federal Trade Commission and the U.S. Mint.
Selling Bullion Coins
Why sell bullion coins? At some point they will appreciate enough to represent a very attractive source of income. This can boost savings in gold accounts like a precious metals IRA, or offset an investment loss elsewhere. The trick to selling is to get a fair to good price. Trying to win a major sale of the year likely won't happen, but good sales happen regularly. Research and watching spot market pricing of precious metals is the first step, and selling to reliable buyers is the second. Scottsdale Bullion and Coin, for example, will purchase gold bullion coins at very fair prices, making it a good source to sell gold and silver coins. It is possible to sell privately, but always make sure to get paid first before releasing a coin. And don't trust credit card payments unless you are protected from chargebacks. Many scammers buy a coin and then claim to their credit card company it was never delivered. The charge gets reversed, and the seller is then out both the coin and the payment.
Conclusion
Bullion coins will continue to represent strong investments in both precious metal spot markets as well as collectible coin markets. However, it's best to take the time to research and learn the coin market to avoid losses. Scottsdale Bullion and Coin is good educational resource as well as a legitimate buyer and seller of bullion coins.