As the official silver bullion coin of the United States, the 1 oz American Eagle Silver Coin has enjoyed a high level of prestige among precious metals investors at home and abroad. The popularity of the coin derives from its high purity rating, instant liquidity, and inflation-hedge properties. Unfortunately, Silver Eagles are becoming increasingly expensive to purchase and the prices aren't being driven by the value of silver. A perfect storm of factors has hiked up the prices of these highly sought-after silver coins causing many investors to look for viable alternatives.
Why are American Silver Eagles so expensive now?
Many silver investors have been noticing a spike in 1 oz Silver Eagle prices despite the relatively stable spot price of silver, leading to questions about the root cause of the price jump. In a way, the Silver Eagle is falling victim to its own popularity as the demand for silver bullion reaches all-time highs on the back of a struggling economy. However, that doesn't tell the whole story.
The U.S. Mint is the sole producer of the iconic American Eagle Silver Coin which means the entire precious metals market is at the whim of its production capacity. The COVID-19 pandemic caused the temporary closure of the West Point Mint[1], resulting in an unprecedented disruption in the minting of silver eagles and various other coins.
In response to a stumbling economy, more and more investors turn towards the protection of precious metals. This is where the Silver Eagle's sheer popularity becomes an issue. As one of the highest-regarded silver bullion coins on the market, it's receiving a lot of attention lately. For example, a billionaire from Texas recently purchased 900,000 Silver Eagles[2], underscoring the demand for these esteemed coins.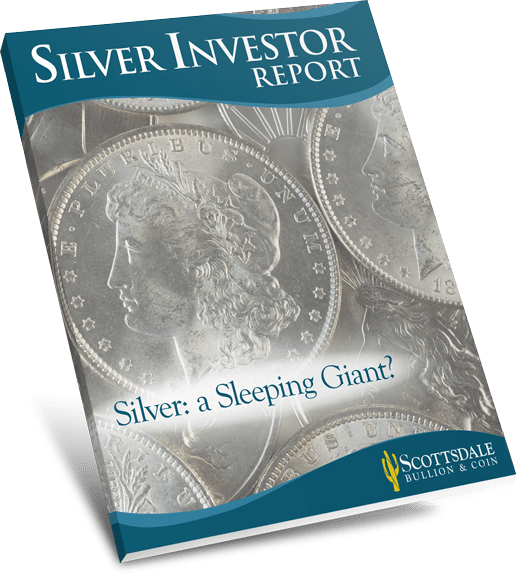 Unlock Silver Investor Trade Secrets in our Investor Report.
Get Your Free Report
Since the U.S. Mint only sells American Eagle Bullion Coins directly to wholesale buyers, retail investors can't purchase them directly. In order to stay competitive and maintain a profit, coin dealers have to increase their precious metal premiums on in-demand products. That's why investors see bullion products of similar silver purity being offered at lower prices while Silver Eagle premiums reach higher.
Are there better buys than the American Eagle Silver Coin?
Now that you understand why American Eagle Silver Bullion Coins are currently so expensive, you're probably wondering what silver coins you can purchase instead, while premiums remain high. Fortunately, there are still plenty of viable silver coins you can pursue to protect your wealth against the fumbling economy and growing inflation. These silver coins offer a variety of different advantages.
Lower premium silver coins with reasonable supplies:
These are silver coins that generally see larger supplies than Silver Eagles with quick shipping times too. It's important to keep in mind that these factors can change at any moment depending on market conditions.
Silver Rounds
Bullion product
Easy to liquidate
Silver content: Comes in various Troy oz options
Usually in stock with fast delivery
Minted by many private mints
Good for bartering
IRA eligible (depending on purity)
Lower premium silver coins with potential delay issues:
This group of silver bullion coins provides many of the same advantages as Silver Eagles while currently offering cheaper prices than their more popular counterpart. You'll need to act quickly on these bullion coins as shipping delays are starting to become an issue due to the growing demand which could cause a jump in premiums too.
Silver content: 7 different Troy oz options
High silver purity (.999 since 2013)
Government-issued silver coin (UK Mint)
IRA eligible (2013 and newer)
Silver content: 8 different Troy oz options
Government-issued silver coin (Mexican Mint)
Silver Australian Kangaroo Coin
Silver content: 1 Troy ounce
High silver purity (.9999 since 2015)
Government-issued silver coin (Perth Mint)
Silver content: 1 Troy ounce
High silver purity (.999)
Government-issued silver coin (South African Mint)
Think about uncirculated or lower-grade investment coins.
These coins are numismatic as opposed to bullion which means they carry value beyond their weight in silver. They share the same inflation-hedge benefits and bartering compatibility as Silver Eagles making them a worthwhile alternative to consider.
Numismatic value
Equally popular coin
Holds value independent of silver prices
Private: No1099 tax form reporting
Exempt from confiscation
Relative scarcity due to low mintage
Offers numismatic value
Still a highly popular coin
Private: No 1099 tax form reporting
Exempt from confiscation
Tips for Investing in Silver Coins at the Best Prices
Pay attention to premiums.
It's nearly impossible to avoid dealer premiums as all reputable dealers apply an additional cost to items covering the cost of acquiring, moving, and storing the products. However, you can minimize the cost of these premiums by keeping an eye out for unreasonably high premiums on dealer exclusive coins.
Shop around for offers.
When you're buying silver coins, it's prudent to seek out multiple offers from different coin dealers or precious metals experts in your local area. This makes it easier to gauge the average cost of the desired silver coin while avoiding the highest price.
Don't time the market.
Every investor has fallen victim to the temptation of timing the market by waiting to invest until spot prices are at their relative lowest. Unfortunately, this futile effort always backfires as there's no way to perfectly time the market. It's always better to simply invest in silver and wait. Eventually, the price is going to increase in the long run which could provide you with viable returns.