Strong price performance is predicted for the gold in 2018. GFMS, the precious metals research arm of Thomson Reuters, indicated in its Gold Survey 2018 that gold could average $1,360 per ounce this year, levels not seen since 2013.[1] Even more exciting for investors is the projection that gold could soar to $1,500 per ounce later in the year. What could drive the gold rally?
Gold Price Drivers in 2018
What affects gold prices at any given time? Several factors can influence the price of gold: supply and demand; domestic and international political tensions; and economic uncertainty. Let's examine how they're driving the market this year.
Supply and Demand
When demand for gold spikes, prices rise—especially in years of lower production.
Supply
Mine production decreased in 2017 due to lower output from Asia and South America. At the same time, mining costs rose. A decrease in global scrap gold also contributed to lower supplies.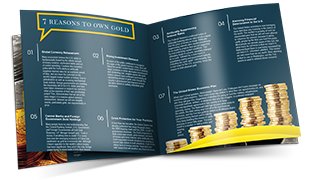 Learn everything you should know about investing in precious metals.
Request the Free Guide
Demand
Physical gold saw a 10 percent jump in demand in 2017. Below were the sectors responsible for the increase in gold demand:
Jewelry Fabrication: 13 percent.
Industrial Applications: 4 percent.
Central Banks: 36 percent.
Political Problems
Tensions within a domestic government or between international ruling bodies can spur safe haven investing, sending prices for gold and other precious metals skyrocketing.
Domestic
While public opinions of President Trump have been divided, statements and actions often cast a wave of uncertainly over the markets. In fact, gold prices rose 12 percent during his first year in office despite the Fed raising interest rates three times.[2]
International
The international stage is rife with conflict these days: spats between the U.S. and North Korea over missile testing on the Korean Peninsula; a growing U.S.-Saudi-Iran rivalry that has resulted in the U.S. backing out of an international nuclear agreement with Iran and reimposing sanctions against the country, as well as military strikes throughout the Middle Eastern regions involved; and increasingly chilly U.S.-Russia relations.[3][4]
Economic Issues
Threats to the strength of the economy also cause investors to protect their wealth with gold.
Weak Dollar
The dollar index suffered a 10 percent loss last year. Couple this poor performance with China's continued efforts to displace the dollar with the yuan as the world's reserve currency and it's easy to see why speculation of an imminent dollar crash abounds.
Interest Rate Hikes
Common market knowledge is that higher interest rates steer investors toward interest-bearing assets like stocks and bonds. Even though the Fed raised rates three times last year and is set to increase them another three, maybe even four, times this year, gold's performance has remained healthy.[5][6]
Recession
Employment is at record highs, but this may not be a good sign for the economy. Historical data shows that the economy was at or near full employment just months prior to the 10 most recent recessions.[7] When you consider that the U.S. is heading toward the longest economic expansion ever, the signs pointing toward a coming recession are even stronger.
Stock Market Correction
The equities market has been overheated for some time now and is set for a correction. Steen Jakobsen, chief economist at Saxo Bank, predicts a 30 percent correction if a recession hits.
Seize Gold Buying Opportunities
With gold prices predicted to climb throughout the remainder of the year, now is the time to buy. Whether or not the current economic and political problems escalate or gold peaks in the near future, investors can rest assured their portfolios are protected.