Looming Threat Shatters Market Calm, Sends Gold Soaring
Gold prices are continuing to climb as tensions between the United States and North Korea heat up. Prices climbed higher again today, exceeding $1,288 an ounce and cruising toward the crucial $1,292 mark.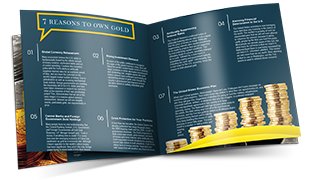 Learn everything you should know about investing in precious metals.
Request the Free Guide
Yesterday, the price of gold skyrocketed after President Trump issued a stern warning to the North Korean government that threats against the U.S. would lead to "fire and fury like the world has never seen."  
That warning had gold prices up around $17 an ounce yesterday, and an additional +$7 an ounce today! You should have bought yesterday, but there's still amazing investment potential for those who jump on gold today.
Investors Getting Bullish on Gold Amid Uncertainty
Gold is considered a safe haven investment during uncertain political and economic conditions. The situation with North Korea has all the ingredients for a potential crisis. The threat of a new Cold War or military strikes is sure to have an impact on the world economy and drive the value of the dollar down.
What Does This Mean for You?
Experienced investors are turning to gold because now is the best time to buy. Gold is quickly moving toward its highest price of the year, which means it's time to act. Don't sleep on this opportunity and get priced out!
Get Your Free Gold Investor  Guide Now!
Claim your FREE Gold Investment Guide and get the facts you need to take advantage of current market conditions. We'll help you make an informed investment decision, but you need to act now to avoid being priced out! – CLICK HERE