Market forces that have put pressure on the price of silver all summer shifted last week. The dollar declined amid cautious statements from Fed Chairman Jerome Powell concerning further interest rate hikes and negative news coverage of former Trump staff members. Silver, which is priced in the greenback, rose slightly as investors in other countries took advantage of bargain prices. Financial experts predicted this trend to continue, advising investors to buy gold and silver now before prices take off.
Read more about the white metal's investment potential for the year in "Why Buy Silver in 2018?"
Silver Price Movement Indicators
Monday, August 20, 2018
Expert Predictions
Expert forecasts of the dollar's demise have abounded lately, and Monday brought another one. In "Why Silver Could Replace The Dollar," analyst Hubert Moolman predicted that the "current debt-based monetary order" is set to collapse. When it does, Moolman foresees a return to the use of silver as money, as well as a major investment class.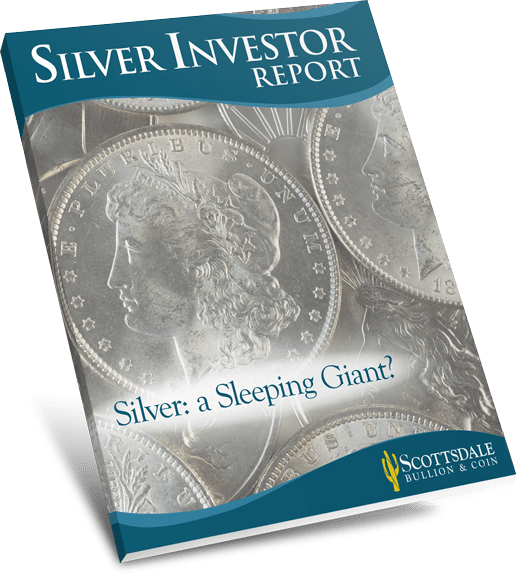 Unlock Silver Investor Trade Secrets in our Investor Report.
Get Your Free Report
Citing chart analysis, Moolman went on to assert that the white metal has bottomed and that higher prices for silver over the next few weeks could signal the breakout experts have been predicting for months. Read his full analysis.
Tuesday, August 21, 2018
Declining Dollar & Silver Rally
Tuesday brought more predictions of the coming silver rally. Financial experts from Wells Fargo are recommending buying precious metals and silver particularly. 'At the top of our commodity buy list are metals, especially precious metals. Silver looks to be the best buy,' wrote the head of Wells Fargo Real Asset Strategy, John LaForge, in a note to clients.
What was the primary support for this argument? The dollar's decline. 'We should note that Wells Fargo Investment Institute (WFII) believes the dollar's strength likely will fade into year-end. This matters because commodity prices tend to move opposite the U.S. dollar, primarily because most commodities are priced globally in U.S. dollars … We anticipate these developments should help commodity prices to bounce.' Learn what others have predicted for the greenback in "When Will the Dollar Crash?"
LaForge recommended buying silver in the $13-$14 range for the best deal. Tuesday's silver prices suggested the time to take advantage of bargains is running out. With a high of $14.80 at 5 am and a low of $14.72 at 9 am and 3 pm, the white metal edged its way closer to $15 an ounce.[1]
Wednesday, August 22, 2018
Stock Market Bubble
The stock market set the record for the longest bull market in history on Wednesday: 3,453 days of uninterrupted gains. During the financial crisis, the equities market plummeted by 50 percent. In the nine years and five months since March 2009, the S&P 500 index has increased 321 percent.[2][3] However, many experts think equities are overvalued and the stock market bubble is set to burst soon, especially as the trade war triggers inflation and economic downturn and the benefits businesses have enjoyed as a result of the recent tax cuts wane.
'If the trade war does not ratchet down, the Fed will have to fight more inflation with slower rates of growth. Therein lies a stewpot of risk,' predicted the chairman and chief investment officer of Cumberland Advisors, David Kotok.
'The biggest threat to the expansion is a letdown from the sugar high of fiscal stimulus,' added David Kelly, the chief global strategist at JPMorgan Funds.
Until the market corrects or crashes, its strength could weigh on the price of silver due to the negative correlation between precious metals and stocks and bonds. If and when the market does plunge, this same relationship could send silver prices soaring.
Predictably, the bull market birthday produced a pullback in silver prices: the white metal shed 25 cents from the 8 am high of $14.84 to the 11 pm low of $14.59.
Thursday, August 23, 2018
Escalation of the Trade War
Despite trade talks between midlevel envoys for the U.S. and China on Wednesday and Thursday, both countries levied a 25 percent tariff on 16 billion worth of imports against each other. American consumers will now pay more for Chinese motorcycles, mopeds, farm equipment, plastics, and electronics. Likewise, prices for American-made motorcycles, passenger cars, and baby carriages will increase for consumers in China. It was the second round of duties the nations have levied against each other, marking a further escalation of the trade war.
Investor fears that the trade dispute could interfere with Chinese demand for commodities could initially spark selling and downward pressure on prices for silver, an industrial as well as a precious metal. If the trade war persists, however, it could drive up inflation in both countries. As we know, silver and gold are excellent hedges against the financial ravages of inflation. Demand and prices for precious metals could then trend upwards in such a scenario.
Silver prices traded in a similar range to the rest of the week on Thursday, starting strong at $14.62 at 2 am and then tapering off to $14.46 from 4 pm to 6 pm.
Friday, August 24, 2018
Weaker Dollar
Following what market watchers perceived to be a dovish stance on interest rates from Jerome Powell in Jackson Hole, Wyoming, and negative news headlines concerning former staff members of President Trump, the dollar fell further on Friday. The primary dollar index was down .5 percent for the day and 1 percent for the week against a basket of six rival currencies.
With their inverse relationship to the dollar—especially apparent over this summer—precious metals rallied. Spot silver prices went from the midnight low of $14.53 to gain 29 cents, hitting the high of $14.82 by noon.
'Suffice it to say that silver supply is tight. There are no mines scheduled to come on in the next year or two which would increase annual silver output by anything close to 450 million ounces. Unless an asteroid carrying half a billion ounces of silver lands on earth, we believe the shorts are playing a dangerous game with little to gain,' remarked Shree Kargutkar, a portfolio manager at Sprott Asset Management.
Where is the price of silver today? Check our Spot Silver Price Chart.