Gold trading drew a lot of interest last week. The gold price chart indicated a Monday opening of $1,226.95 that rose to $1,235.35 by early afternoon. Selling shaved a dollar off the price of gold before it closed on a peak; however after-hours action sent the price down to $1,229. That didn't deter buyers: the markets opened at $1,230.96 and reached a Tuesday high of $1,234.74. Wednesday began with gold prices at $1,242.71, and they stayed just north of the $1,240 line at closing. Friday saw early gold prices of $1,228.22, and it was all buying for the rest of the morning, shooting the price of gold up to $1,234.50. While closing down a dollar from this daily high, the price per ounce of gold was up solidly for the week at $1,233.55.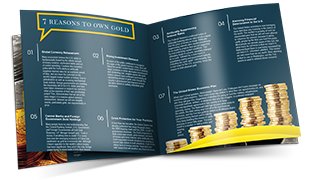 Learn everything you should know about investing in precious metals.
Request the Free Guide
While the recent U.S. elections had an unusual influence on the market, there are indications that some of the early economic optimism is wearing off. With the Senate set to confirm the new Treasury Secretary Steven Mnuchin on Monday, the public could soon learn more about his tax reform initiatives. These, and any news on actions to strengthen or weaken the U.S. dollar, will have an impact on the demand for precious metals, including gold.
While the Fed caused little market reaction with its January FOMC minutes, many are watching for any indication of a move to replace or influence Chairwoman Yellen before the next meetings are held.
Movements in futures have some believing that bearish bullion houses are closing off their positions 1. A number of shorts have been forced to cover while gold stays above $1,200. Others holding on to a bearish position are at least skittish, and may react quickly with any more bullish news or announcements. This, in turn, has long-term investors watching for opportunities to buy gold at prime prices.