Identified as "the Anti-Populist From Hell" by the New Republic, Steven Mnuchin is President-elect Donald Trump's pick for Treasury Secretary. 1 Accused of mercilessly profiting from the housing crisis, the former Goldman Sachs banker and Hollywood movie producer would be responsible for overseeing banking regulations, financial markets, and the IRS as Treasury Secretary. He would essentially become the face of the American economy. 2
As long-term gold investors know, the state of the economy impacts demand for gold and gold prices. This was evident during the financial meltdown of 2008 when gold prices peaked. Given the tremendous influence the Treasury Secretary has on the economy and gold prices, many financial analysts are asking what Steve Mncuhin has in store for the country.
National Economic Growth
The majority of Wall Street players, such as Carl Icahn and Henry Paulson, were positive about the appointment. They felt that the policies Mnuchin and the new Commerce Secretary Wilbur Ross would implement would provide renewed momentum for a growing U.S. economy. This attitude explains part of the strong performance of equities since the election in November. 3
If the economy does perform well over the near term, long-term investors will most certainly find opportunities to buy gold.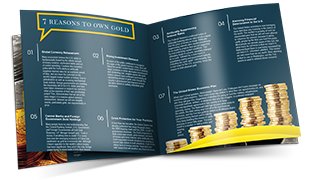 Learn How to Avoid Costly Rookie Mistakes & Invest in Gold Like a Pro!
Get Free Gold Investor Guide
Foreign Economic Decline
Other activities that Trump's economic team might undertake could be challenging for foreign economies. One example is the potential challenge to China of calling it a currency manipulator. 4 This is on top of current concerns over a major depreciation of the yuan, in spite of efforts to prevent that occurrence. 5 Anything that the new administration does that accelerates an economic crisis in China could have a range of negative outcomes that could prove bullish for gold prices. 6
Financial Deregulation
Observers believe Mnuchin's father, also a Goldman banker, shaped his economic perspectives early. His hand in accelerating the pace at which many Americans lost their homes during the Great Recession certainly suggests he is a financial opportunist rather than economic ideologue.
Federal Reserve Restructuring
Publically, Mnuchin indicated that current Fed chairwoman Janet Yellen has done a 'good job.' Others have suggested that Mnuchin may make an early move to encourage the replacement of Yellen, especially since Trump has been critical of her decisions. 7
For gold buyers, the question is who would replace Yellen and what would be his or her view on the planned interest rate hikes. The market seems to have priced in expectations of the rise in interest rates. However, any change to slow the rate of increases would be bullish for gold prices.
Mnuchin's Notorious Past
Actions speak louder than words. Mnuchin's stated positions on financial and economic issues leave one with an ambiguous impression of his potential impact on the country as Treasury Secretary, but his ruthless behavior during the Great Recession can be seen as a red flag. Before imagining Mnuchin as the face of the American economy, picture him in a role he has already played: head of the foreclosure crisis.
After working for George Soros' hedge fund in 2004, Mnuchin started his own, Dune Capital Management. In 2009, Dune Capitol purchased one of the home lenders that had contributed to the housing crisis and financial meltdown: IndyMac. Dune renamed the failed subprime king OneWest. Even though the FDIC assumed much of the losses when it sold the failed bank to Dune, Mnuchin sought further profits for OneWest and himself at the expense of homeowners.
Faced with the option of offering struggling homeowners loan modifications or foreclosing on them, Mnuchin vigorously pursued the worst outcome for American families. Relying on the fraudulent practice of "robo-signing," OneWest put homeowners—especially the elderly—on the streets at lightening speed. For example, OneWest's subsidiary Financial Freedom only serviced 17 percent of the reverse mortgage market from 2009 to 2015 but was responsible for 39 percent of foreclosures—actions that left grandmothers and grandfathers and widows and widowers in the cold.
Mnuchin ultimately sold OneWest to CIT Group for $3.4 billion and left shortly thereafter, pocketing a $10.9 million severance package on his way out. The bank and millions of Americans are still reeling from the damage Mnuchin caused, but the Wall Street vet moved on quickly and has since produced a slew of movies and contributed to Democratic candidates—including Hillary Clinton and Barack Obama—before becoming one of President-elect Trump's closest economic advisers. 8
Stay Tuned on the Treasury Secretary
It is expected that Mnuchin will have more input as Treasury Secretary than has been common in most administrations. This is based on President-elect Trump's announced style of finding good people and letting them do their job. Since Mnuchin's actions have such significant implications for the economy and gold prices, he's certainly a person to watch in 2017.
Additional Sources
1 – https://newrepublic.com/article/133368/donald-trumps-finance-chair-anti-populist-hell
2 – http://money.cnn.com/2016/11/29/news/economy/donald-trump-steven-mnuchin-treasury/
3 – http://www.zerohedge.com/news/2016-11-30/wall-street-reacts-steve-mnuchin-choice-treasury-secretary
4 – http://finance.yahoo.com/news/means-trump-names-china-currency-manipulator-081426198–finance.html
5 – http://www.reuters.com/article/uk-china-yuan-depreciation-idUSKBN14T04Z
6 – http://seekingalpha.com/article/4035096-reading-fts-glimpse-chinas-economic-future
7 – http://www.cnbc.com/2016/11/30/despite-sharp-trump-criticism-treasury-and-commerce-nominees-say-yellen-has-done-good-job.html