We live in a risky world and nobody knows for sure what might happen tomorrow, the next week, or the next year. To mitigate the different types of risks you may face, you can buy insurance. You buy car insurance, health insurance and life insurance to cover you and your family in the event of an accident, illness, or unexpected death. Buying physical gold and silver is like an insurance policy against an unpredictable financial and economic world.
Just like there are gold and silver plans for health insurance, you can set up a physical gold or silver plan to help protect you from the many perils that can diminish the value of your financial portfolio. Anyone, from someone who makes $30,000 a year to someone who makes a seven-figure salary, can invest in physical precious metals. There are a number of different reasons why you should have a percentage of your assets in gold and silver coins.
Diversification
It never makes sense to put all of your eggs in to one basket. You wouldn't bet everything you owned on a spin of the roulette wheel and you should not concentrate all of your wealth in just one or two assets. Precious metals can complement a portfolio of stocks, bonds and various other investments. If one of your investments drops, another may go up and keep you from suffering a major decline in your holdings.
Jim Cramer believes that gold bullion and gold coins should be part of a diversified portfolio. On his Mad Money show, broadcast on CNBC on July 8, 2014, he expounded on the virtues of gold.
"Diversification. It's the single most important concept in investing. Gold tends to go up when everything else goes down. I regard gold as your insurance against economic or geopolitical chaos…" – Jim Cramer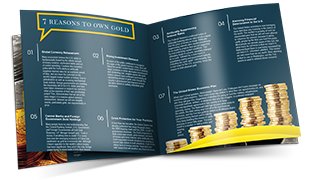 Learn How to Avoid Costly Rookie Mistakes & Invest in Gold Like a Pro!
Get Free Gold Investor Guide
Volatility
Gold is insurance against market volatility. One never knows what the future will bring, but historically, gold holds its value well in rough economic times. If the stock market crashes, and someday it will, those who hold physical gold and silver will be well-rewarded.
Inflation
While the government figures on inflation, as reported in the Consumer Price Index, have remained low for the last several years, anecdotally, there is strong evidence that prices for true necessities like food, prescription drugs, and healthcare, are going up rather precipitously. In times of inflation, the dollars in your savings account buy fewer goods and services, but gold and silver maintain their value.
A World Currency
Gold and silver are traded in US Dollars. When the dollar weakens against some of the other world currencies, it helps push-up the price of gold. No matter where you are in the world, gold can be converted into local currency based on its value in US Dollars.
Political and Economic Unrest
If you have been paying even the slightest bit of attention to global events, you know that there are major problems all around the globe. High unemployment rates in parts of Europe and concerns over a slowdown in GDP growth in China, are just two of the many reasons to be bullish on precious metals. Add the wars in the Middle East and political turmoil in many other parts of the world, and you have a strong case for liking gold and silver.
China and India's Growing Middle Class
You cannot ignore this mega-trend that will change the world in the coming decades. The rapidly growing Chinese and Indian middle class will spur immense demand for gold in the two biggest gold-consuming nations in the world. As demand continues to grow for a natural resource that is in limited supply, the only thing that can happen is a rise in price.
Precious metal ownership is a proven way to preserve wealth during difficult economic times. While opinions may differ on the short-term price movements of gold and silver, there are more than a few technical and fundamental indicators that strongly suggest that precious metals will move significantly higher in the coming years.