"I'd be looking for higher [gold] prices as we move into the end of this year and into [2023] and beyond."

– Scottsdale Bullion & Coin Sr. Advisor Damian White
As the year reaches a close, investors are eagerly anticipating gold's performance in 2023. The economy has yet to shake the chaos, uncertainty, and fear that has held it hostage for much of the past year.
Watch the video to hear Scottsdale Bullion & Coin Advisor Joe Elkjer & Sr. Advisor Damian White discuss the current price of gold, how it will perform in 2023, and what factors will influence its trajectory.
Gold Prices Establish a Strong Foundation
After blowing past $2,000/oz in early March, gold prices retreated slightly for the remainder of the year. The relatively stagnant price action of the past few months has generated some confusion among investors, especially as demand for physical metals soars. Experts suggest that gold has found support between $1,600 and $1,700/oz.
Gold spot prices have remained buoyed by this support even through all the financial, economic, and geopolitical hazards of the past few years, which signals strength in the metals market. Experts view this support as a strong indication that gold spot prices will start jumping higher through the end of this year and through 2023.
The Factors Pushing Gold Prices Higher in 2023
In addition to gold's secure price support, there are some favorable developments that will act as tailwinds to bolster the increased value of precious metals. 2023 gold price forecasts suggest that precious metals will see some healthy growth next year and beyond. Saxo Bank is forecasting prices as high as $3,000 an ounce.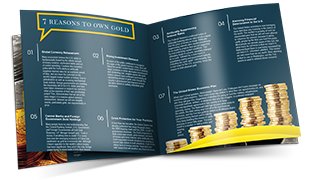 Learn everything you should know about investing in precious metals.
Request the Free Guide
Fed Slows Rate Hikes
The Federal Reserve's one-trick strategy for fighting inflation resulted in a slew of interest rate hikes through 2022. These rate hikes provided a boon to the greenback which has been performing relatively strongly given the currency collapses around the globe.
The Fed's recent plan to slow down rate hikes will allow the USD to settle at more realistic levels while giving precious metals room to run. In fact, gold values jumped 2% in just a few days following the Fed's mention of its policy change.
BIS Uncovers $80 Trillion Worth of Debt
The Bank for International Settlements (BIS), often heralded as the central bank of central banks, recently revealed that over $80 trillion worth of debt is held by various "non-bank" financial institutions such as pension funds and private businesses.
The announcement shook equity markets which experienced massive selloffs. To make matters worse, $64 trillion of that debt needs to be refinanced in the next year which could lead to immediate defaults and systemic crashes.
These two recent developments alone would be enough to bolster the spot price of gold, but there are plenty of other economic conditions such as high inflation, ongoing geopolitical conflict, and the threat of recession that will likely boost gold prices in the future too.
Buy Gold and Wait, Don't Wait to Buy Gold
Gold has found a strong foundation over the past few years even amidst a challenging economy with aggressive rate hikes and a strong dollar. With spot gold prices hovering near that floor, investors have an excellent opportunity to scoop up more precious metals before the next upward movements.
Between the Fed's plan to slow rate hikes and the BIS announcement of mind-boggling amounts of debt, as well as a slew of other factors, 2023 is shaping to be a healthy year for gold prices. Instead of trying to time the markets and waiting to buy gold, you're better off buying gold now and waiting. Request your FREE COPY of our popular Gold and Silver Investment Guide to learn the fundamentals of investing in precious metals.