"If you're trying to buy the metals physically, especially silver, gold, platinum, palladium, all of those premiums above spot are further than we've ever seen in my career of doing this for almost 20 years…"

– SBC Founder Eric Sepanek
The precious metals market is receiving increased interest as investors desperately search for protection from a crumbling economy, poor fiscal policies, and a spendthrift government. Watch the video above to hear Precious Metals Advisor John Karow and Founder Eric Sepanek explain the true expense of student loan forgiveness, why the Fed shouldn't be trusted, and why physical gold and silver prices are expected to shoot up in the near future.
The Real Cost of Student Loan Forgiveness
The Biden administration unveiled its extortionate student loan forgiveness plan much to the dismay of anyone with a fractional understanding of how the economy functions. What's masquerading as "forgiveness" or a "handout" is actually a $400 billion dollar check that was signed in a last-ditch attempt for the administration to animate their voting base in the upcoming midterms.
The last time the United States authorized this much spending was during the housing market crash of 2008. The Emergency Economic Stabilization Act was reluctantly passed in the eleventh hour when the economy was on the brink of complete collapse. Fast-forward to today, and the government has no hesitation to spend hundreds of billions of dollars without any regard for its effect on the average American.
The Fed's Streak of Empty Promises Continues
Ever since the economy started going sideways, the Fed has engaged in gaslighting, misleading statements, and outright lies in an attempt to assuage the American public. The Fed's most recent fib that the staggering cost of the student loan forgiveness program will have no effect on inflation is yet further proof that our financial elites have no qualms with lying to our faces in the midst of unprecedented economic hardship.
Precious Metals Provide an Island of Stability
"The only area that we see [with] any stability is our gold and silver markets."

– Precious Metals Advisor John Karow
In this ocean of economic chaos, precious metals are the lone island of stability. Retail investors from around the globe are rushing to this safe haven for a hedge against inflation which is only going to increase with the government's no-holds-barred spending sprees. The most recent surge of physical gold and silver buyers is coming from Asia as investors jump on this precious metals' temporary slump to scoop up gold and silver bullion.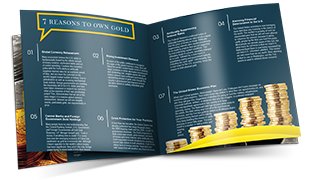 Learn How to Avoid Costly Rookie Mistakes & Invest in Gold Like a Pro!
Get Free Gold Investor Guide
Don't Get Fooled by the Spot Price
Some naysayers point to the spot price to discount the efficacy of precious metals investing during this economic catastrophe. In reality, the spot price is only a factor when purchasing ETFs or precious metals stocks. Currently, the dealer premiums on physical precious metals such as gold, silver, platinum, and palladium are higher than they've been in decades. Investors should consider taking quick action before the physical price of precious metals jumps.
The highly-regarded London Bullion Market Association (LBMA) is expecting gold and silver prices to make impressive gains over the next 12 months. More specifically, the LBMA is predicting that gold spot prices will reach $1,830.50 per ounce which would be a 12% stretch from current spot gold prices. The prediction for silver is even more bullish with experts anticipating a 54% increase from the current spot price of silver up to $28.30 an ounce by this time next year.
Gold and Silver Prices Are Poised for Massive Gains
All metrics point to precious metals making healthy gains in the near term, both on the paper and physical side. Inflation is worsening with each passing day, the government isn't ceasing its spending spree, and retail investors are picking up as much gold and silver coins and bars as possible. It's only a matter of time before the value of gold and silver reflects these factors, so you should think about making your moves now.
Contact one of our knowledgeable and helpful precious metals advisors via call or live chat to learn about prices and availability.