"In my 18 years of trading rare coins, this is the first time I've ever had the honor of presenting a brass 1776 Continental Dollar."

– Eric Sepanek, Scottsdale Bullion & Coin Founder
The rare coins discussed in last week's Gold Spot Overtime were promptly scooped up by investors, so we thought it would be a good time to introduce an exceptionally unique and historically significant coin.
The 1776 Brass Continental Dollar
This 1776 Brass Continental Dollar boasts a PCGS rating of VF25 which signifies excellent condition. In fact, this coin even garnered a CAC certification which means it exceeds the requirements for this already impressive PCGS rating. In other words, this Brass Continental Dollar is nearly impeccable.
History
Minted the same year the Declaration of Independence was signed, this is one of the most popular coins from the Continental Era and a living, breathing part of American history. The vast majority of Continental Dollars were minted in pewter as the US struggled to obtain silver loans from the French.
Only two gold and a few dozen silver strikes of this historic coin exist. The two gold versions recently fetched over $2 million apiece at auction, underscoring the numismatic value offered by these rare coins.
Design
Elisha Gallaudet is credited with creating the coin for the Continental Congress, although it's believed the distinct and iconic design of the 1776 Continental Dollar was inspired by none other than Benjamin Franklin, further fueling this coin's historical significance.
Reverse Coin Design
The reverse of the coin features 13 interlocking circles representing the original colonies with "AMERICAN CONGRESS" and "WE ARE ONE" labeled in the middle.
Obverse Coin Design

The obverse is graced with an intricate depiction of a sundial with sharp sun rays. The Latin motto "FUGIO", which translates to I flee, sits to the left.

The inscription "MIND YOUR BUSINESS" lies below the sundial motif which is thought to mean: Time flies, so mind your business. This is either a famous Franklin aphorism or a double-meaning advising people to bear personal responsibility and refrain from needlessly meddling in other peoples' business.
Derivations
Continental Dollars can be split into two varieties based on the spelling chosen for the obverse side: CURENCY vs CURRENCY. The latter category is further broken down into EG FECIT and Floriated Cross types.
The 1776 Continental Dollar we currently have in our possession is of the former category. Brass Continental Dollars were minted early in the emissions sequence for the CURENCY group and were incredibly limited in number.
Give This Historic Rare Coin a New Home

Everything about this 1776 Continental Dollar is rare. Coins from the Colonial Era are few and far between, making them highly sought-after among numismatists and investors alike. On top of that, only a handful of brass versions were struck. It's also uncommon for Scottsdale Bullion & Coin to feature brass coins.
Altogether, these factors contribute to a respectable valuation of $175,000. This 1776 Continental Dollar is a prime addition to sizable precious metals portfolios for long-term results. Reach out to Scottsdale Bullion & Coin by calling us or using our Live Chat function to learn more about this and other rare coins we have available.
If you want to develop a better understanding of rare coin investments, download our FREE Investment Grade Coins Report today!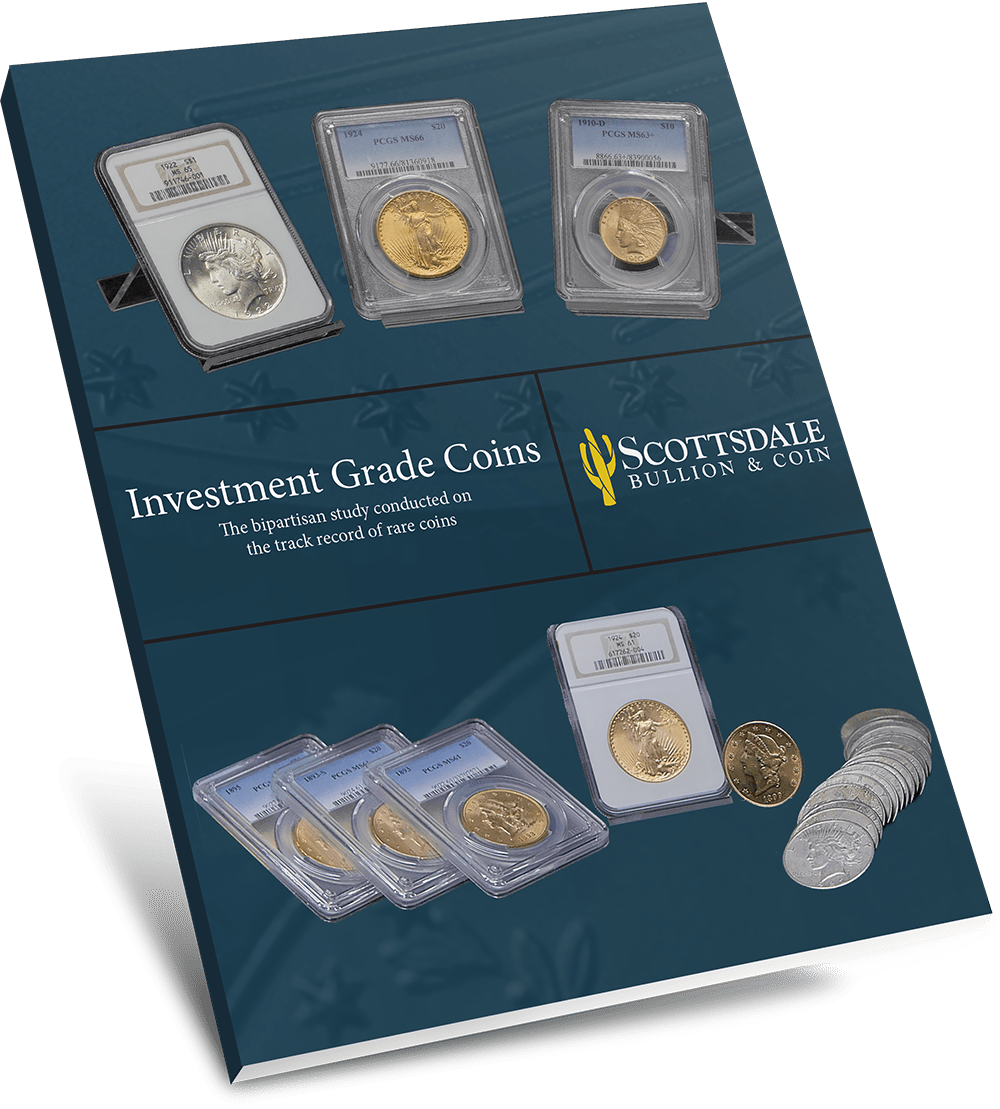 Get more out of your gold & silver investments. Read our free, data-backed investment report now.
Get Free Report