"We are living under inflation right now. We're not looking at it in the future. Housing prices? Up. Stock market? Higher than it's ever been. Bitcoin? Up. Everything's up. Except the dollar."

— Eric Sepanek, Founder of Scottsdale Bullion & Coin
Printing money. It's the only tool the Fed's got left:
$1.9 trillion stimulus bill
$3 trillion infrastructure bill
Green New Deal
Immigration legislation
Student loan debt forgiveness
No one even talks about these numbers anymore.
"It's amazing to me that people think it's not a big deal that we just keep printing money over and over again. Just look at the cost of living for the average person. To say that debt doesn't matter is just foolish," asserted precious metals advisor Steve Rand in the video above. (Watch now)
Not you. You're keeping track. You're planning ahead. Because you know every dollar they print shaves a few more cents off every dollar you own. Every trillion in stimulus threatens to keep you working another year into retirement age.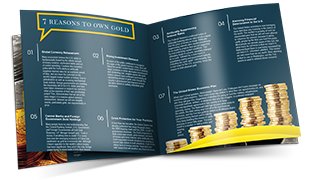 Learn How to Avoid Costly Rookie Mistakes & Invest in Gold Like a Pro!
Get Free Gold Investor Guide
That's why you're not risking your future on fiat currency. You know the history. You see it repeating: hyperinflation. Right now.
You know you need some gold to protect from inflation and economic crisis. Some real money.
Just make sure you're securing your future with the REALIST MONEY on earth. Order your FREE Precious Metals Investment Guide today.
Don't Miss These Handpicked Articles & Videos