Gold experienced a three-day rally last week after the Fed announced it was not raising interest rates currently. This week opened, however, with a strong rally of stocks on Wall Street and European markets, which resulted in gold's retreat from the three-week high that occurred on Friday. The one percent spike in stocks indicated a return of investor confidence, a bearish signal for the yellow metal.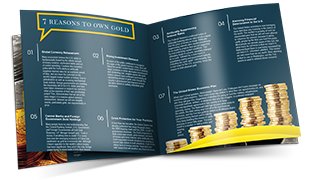 Learn everything you should know about investing in precious metals.
Request the Free Guide
By Tuesday, a stronger dollar pushed gold down further. Conversations continued about the Federal Reserve's interest rate hike, which could occur before the end of the year, according to some Fed statements, effectively placing a cap on the gold price.
Wednesday saw an uptick of 1% for the price of gold, a two-thirds recovery from the three-week high held last week. Data out of China showed the manufacturing sector shrinking at the fastest rate since 2009. Gold demand in both India and China is on the rise currently.
Palladium sank to a 6½-year low on Thursday after news broke about a Volkswagen scandal, which has an indirect negative effect on gold prices, as investors were wary of the precious metals market.
By Friday, gold slipped down 0.4% after Janet Yellen, Chairwoman of the Federal Reserve, announced that the U.S. central bank could be raising interest rates this year. There are two more FOMC meetings before the end of 2015.