The price of gold rose to the highest point since July on Monday on a three-day rally as it became clear that it was reasonable to expect the Fed would not raise interest rates until 2016. Fed minutes released last Thursday showed hesitation to implement a rate hike while economic indicators were still a mixed bag. The dollar was lower by 3%.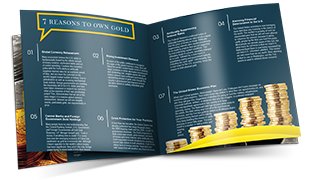 Learn everything you should know about investing in precious metals.
Request the Free Guide
The gold rally lasted throughout the week, trading from $1,165 at the beginning of the week up to above $1,180. The dollar index hit a three-and-a-half week low on Tuesday.
Wednesday's gold prices hit a three-month high as investors continued betting that the Fed wouldn't make any significant economic policy changes, and Chinese investors hedged on gold as their economy continues to struggle.
Thursday the yellow metal retreated slightly from the five-day rally that began last Thursday, but not enough to cause negative gains for the week. A jobless claims report was released late Wednesday that showed new eight-year lows, consumer "core" prices rose 1.9% in September, and inflation returned to 0%. Despite this positive economic report, U.S. retail sales were lacking this week and China is in the middle of a slowdown—two factors that helped gold keep its momentum.
Friday's dollar index rose and thus the price of gold fell slightly as traders locked in their gains. Still, gold remained 9% higher than July and closed out the week with gains of more than $10/ounce.