Monday opened at $1,135, which was near last Friday's closing price, a significant high due to what has been called a "disastrous" U.S. jobs report. This less-than-stellar report called into question the timing of the Federal Reserve's interest rate hike, and the Fed decided to hold off on raising rates. Gold prices were strengthened from the news. This week continued to show positive results for gold as more negative economic reports weakened consumer confidence in an economic recovery.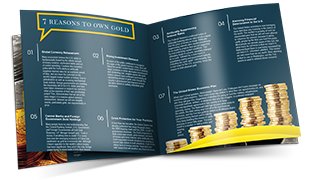 Learn everything you should know about investing in precious metals.
Request the Free Guide
A series of U.S. reports released Monday showed weakness in non-manufacturing and services sectors of the economy. The dollar had been depreciating since Friday's reports, and continued this week, causing the price of gold to reach a nearly two-week high on Tuesday. Tensions in Russia and Turkey also supported the yellow metal. Chinese and Japanese markets were closed for a holiday.
Wednesday saw continued strength for gold as a growing number of speculators took bets that the Fed won't raise interest rates before the end of 2015. Central banks are also an influential factor in the gold price, and on Wednesday the World Gold Council announced that central banks added 47 metric tons to their reserves in August, after adding 62 tons in July. China and Russia are currently the primary buyers of central bank gold.
The gold price hit the significant ceiling of $1,150 before settling back down slightly on Thursday. Chinese and Japanese traders returned to the market after a holiday and contributed to some price correction as they took their gains. The minutes from last week's Fed minutes become public on Thursday, so the price of gold was kept from correcting too far.
Friday's gold prices remained fairly stable. The London Market Bullion Exchange called for mechanisms to make gold trading more transparent, perhaps a response to last week's Swiss watchdog agency investigating banks for possible price manipulation.