Open: $1,150.80 Close: $1,190.80 | High: $1,190.80 Low: $1,147.30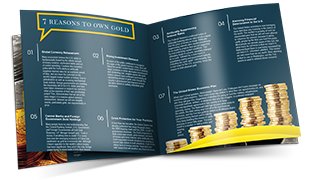 Learn everything you should know about investing in precious metals.
Request the Free Guide
This week followed last week's trend: gold started out extremely weak, then experienced a sharp rally by Friday. Monday's gold prices had fallen significantly from last week's high close-out on Friday, mostly because of a strong dollar. Tuesday was fairly quiet in U.S. trading for the Veteran's Day holiday, but gold did make a small comeback on a lower dollar, short covering and bargain hunting.
Talk throughout the week focused on the end of gold's glory days. Confidence in the U.S. economy, a strengthening dollar and the Federal Reserve's ending of quantitative easing are all bearish factors for gold. Reuters reported one gold analyst, Mike Sheehan of Red Kite, as predicting an eventual bottom of $800 or $900 per ounce. Bloomberg reported the general attitude of traders this week as "risk-on," which is bearish for gold.
However, Bloomberg reported on Thursday that gold's 30-day volatility is almost the highest since January. Last week, gold plummeted to a four-year low, then made a strong comeback by Friday to close the week higher than it began. Bloomberg analysts are saying that this sort of unpredictability is "shaking boredom out of the market." Investors are readily exiting the market, but current volatility is a reminder that gold prices sometimes have a mind of their own.
Gold prices dropped on Thursday after crude oil prices fell and U.S. jobs data rolled in. Lower crude oil and steady employment data decrease interest in gold as a safe haven asset. New jobless claims are at nearly a 14-year low. World gold demand decreased, as well, and China's gold-buying frenzy has dampened this year, as compared to previous years.
By Friday, gold had surged 5% to end nearly at the $1,200 mark. As traders exit the market, others enter. The price increase can be attributed to bargain hunting, short covering and a sudden weakening of the dollar at the end of the week. Friday ended the week on a two-week high.