After a fairly promising month of May, the performance of gold during the initial week of June has been completely bearish.  From the 1st to the 5th the precious metal lost over twenty-five dollars per ounce as the U.S. dollar index continued to rise and put pressure on the Federal Reserve to accelerate interest rates.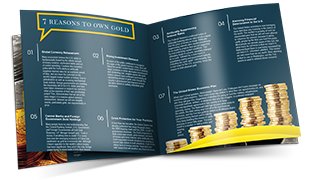 Learn everything you should know about investing in precious metals.
Request the Free Guide
Monday saw gold's only gain in the entire week as the metal managed a jump of just under five dollars per ounce.  Much of the climb came on the news that the U.S. economy had shrunk slightly during the first quarter of the year, settling down at $1,195 per ounce.  While the news that the U.S. dropped down to negative .7 percent growth rather than the projected positive .2 percent growth, it wasn't enough to keep the price of gold continuing upwards for the duration of the week.
Gold had a ho-hum day on Tuesday, where it spiked at $1,205 during the lunch hour but then settled back down with almost no net gain for the trading day.  The rapid increase came as the dollar index collapsed, but conservative investors wouldn't put much into gold and it ended the day with only 106,000 contracts moved, a fairly light exchange.
Wednesday saw the metal take it on the chin, losing nearly eight dollars over the course of eight hours of trading.  Again, another price spike during the New York noon trading break resulted in temporary hope for investors, only to see it dashed as gold failed to retain its growth during the course of the trading day.
Come Thursday, another eight-dollar-per-ounce loss signaled the possibility of a full-on bear market for gold.  A high volume of contracts (nearly 150,000) indicated that some investors wanted to get out of gold as quickly as possible, while others were taking the opportunity to buy gold while relatively cheap contracts could be found.
At the conclusion of the trading week on Friday, a poor dollar index performance gave gold a slight bump, but nowhere near enough to recover its total value lost during the week.  Gold closed out at $1,175 per ounce, one of the lowest weekly closing prices in 2015.  There may be hope on the horizon: on Friday, the World Gold Council issued its quarterly report stating that international demand should stabilize the relatively low demand coming from the U.S. and EU, resulting in little net gain but likely no net loss throughout the near future.