Open: $1,285.00 Close: $1,284.20 | High: $1,292.10 Low: $1,256.00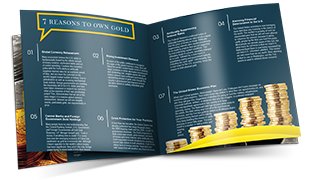 Learn everything you should know about investing in precious metals.
Request the Free Guide
Gold prices fell Monday after the leftist political party won the election in Greece on Sunday—from around $1,306 the previous Friday to $1,285 on Monday. This was partially due to profit-taking and partially due to easing of fears regarding Greece. Many were concerned that if the antiausterity Syriza party took office, they would initiate a retreat from the Eurozone. However, the new political regime has not signaled any move out of the Eurozone, which has calmed some nerves. If this were to happen, many would likely retreat to gold as a safe haven fund.
Reuters released a report on Tuesday that Russia had bought 20.73 tonnes of gold in December, continuing a nine-month long gold buying streak. Central banks became net buyers of gold in 2010, and can have a significant effect on gold prices. Kazakhstan, Belarus and Malaysia also added gold to their national reserves, according to The Australian. Gold trading was fairly quiet ahead of the two-day Federal Open Market Committee meeting that would end Thursday.
The FOMC meeting concluded by announcing that it was still on track to raise interest rates this year. The Fed said that the economy was expanding at a "solid pace" but also stated it would need to be "patient" when setting interest rate levels. Gold fell $17 after the news, its biggest one-day decline in 13 months. The dollar was also firmer, nearing an 11-year peak. Speculation abounded regarding when exactly the Fed would implement those rate hikes, and some attribute gold's steep plunge on Thursday to interpretations that they could be raised as early as June.
"The short-term reaction to the Federal Reserve is all of a sudden, people saying they could raise rates as soon as June. That's what's turned gold down here," said Bill O'Neill, who co-founded commodities investment firm LOGIC Advisors in New Jersey.
However, gold prices rebounded on Friday after a weaker-than-expected U.S. economic report was released. Gold ended January with an 8% gain—gold's best monthly percentage gain since January 2012.