Financial analysts are evaluating what Donald Trump's presidency will mean for the economy. 1 His public contempt for Fed Chairwoman Janet Yellen has prompted historians to draw comparisons to 1980, when some feared then-President-elect Ronald Reagan would eliminate the central bank altogether. 2 Considering the Fed's impact on interest rates, many investors are concerned about how their quarrelsome relationship could affect gold prices.
A Clash of Ideologies
For nearly three years, Janet Yellen has followed what she and her associates see as an aggressive economic stimulation strategy. Critics argue that the Fed has bungled its efforts and made the economic recovery more difficult. Some analysts believe the decade of artificially low interest rates have created a long-term problem, and the ultimate impact will be disastrous. 3
Trump repeatedly blasted the Fed chairwoman and her actions during the campaign. At the same time, the supposedly apolitical Fed clearly had a preference for Hilary Clinton. 4 Since Trump's victory, Yellen has gone on record opposing many of Trump's proposals. She recently stated that the economy couldn't support the amount of federal debt Trump's trillion-dollar infrastructure plan would cause. 5
The "Low-Interest" President
There is a great deal of speculation as to how the election results could impact the Fed Open Market Committee meeting this week. The key issue is whether or not the Fed will raise its benchmark interest rate over the next few months. Trump has made it clear he is a "low-interest" man—perhaps due to his real estate roots—and is not anxious to see rates rise. He also believes higher rates would be an obstacle to his plan to spur economic growth. 6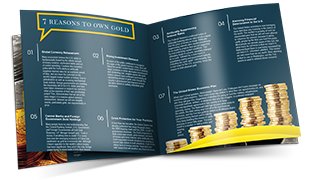 Learn How to Avoid Costly Rookie Mistakes & Invest in Gold Like a Pro!
Get Free Gold Investor Guide
New Faces at the Fed?
How Trump and Yellen will settle their conflicting views after the December meeting is a popular guessing game in the financial world. Yellen's current appointment runs through January 2018, giving her just enough time to make decisions that could influence the economy and investors' gold buying power.
Trump could replace her, as well as the majority of the seven members of the board of the Fed over the next 18 months. However, some close students of the process believe he will be loath to make any major changes over the short-term, much as was the case between Reagan and Paul Volker.
Beyond the Fed: Other Economic Influencers
Trump's new Treasury Secretary, Steven Mnuchin, is also likely to play a significant role in shaping the economy. He's stated his focus would be on growth and continued low interest. Many market participants view his appointment as a harbinger of lower taxes, low interest rates, and an acceptance of at least low inflation to spur growth in the economy. 7
Overall, the market is seeing the election of Donald Trump as a bullish signal for gold. If rates are kept low and there is any hint of inflation, the normal market reaction is to record an increase in the price of gold.
While the focus is on this new president for now, long-term gold buyers understand it is only one of the factors that are pushing investors to gold, including the many ongoing worldwide economic concerns.
Additional Sources
1 – http://www.smarteranalyst.com/2016/11/18/trumps-victory-big-win-gold/
2 – http://www.nytimes.com/2016/11/13/business/economy/trump-the-fed-yellen-gets-ready-for-reckoning.html?_r=0
3 – http://www.usnews.com/news/articles/2016-11-08/will-the-next-president-impact-the-federal-reserves-interest-rate-hikes
4 – http://www.cnbc.com/2016/09/29/top-central-banker-clinton-donation-puts-fed-in-political-crosshairs.html
5 – http://www.npr.org/sections/thetwo-way/2016/11/17/502480053/federal-reserve-chair-throws-cold-water-on-trump-economic-plan
6 – https://www.fxstreet.com/analysis/the-powder-stays-dry-for-now-the-trump-yellen-axis-201611171630
7 – http://www.bloomberg.com/politics/articles/2016-11-14/trump-advisers-said-to-recommend-mnuchin-for-treasury-secretary