With markets closed last Friday for the Easter holiday, it was a short week for gold trading. Early Monday morning the precious metal's high was $1,350.76 per ounce. This was gold's highest price since February 19. However, prices pulled back slightly by midday to $1,346.62. Tuesday saw gold prices open at $1,353.40 before dipping slightly. The price of gold rose again, briefly touching $1,356.55 per ounce before ending at $1,345. On Wednesday, gold opened at $1,345.20 before experiencing a pullback. Gold prices climbed back to $1,327 by the close. This trend continued throughout the rest of the week, with the yellow metal closing at $1,325.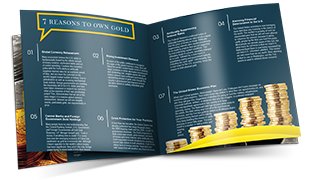 Learn everything you should know about investing in precious metals.
Request the Free Guide
During turbulent times, investors have traditionally sought safety in precious metals like gold. A weak dollar and international tensions are currently driving gold's volatility. Concerns about the dollar pushed up gold prices early in the week; however, the currency's recovery assuaged some investor fears midweek, putting pressure on prices.
Threats of a trade war between China and the U.S. were driven by statements from China's Vice Premier, Liu He. He accused the U.S. of violating international trade rules and declared China ready to defend its interests. Meanwhile, the Federal Reserve is saying that they want to see more details on new steel tariffs before making a decision about policy changes in response.[1] Concern over monetary policy could drive up the price of gold.
Sixty Russian diplomats were removed from the U.S. last week; Russia retaliated with the removal over 150 Western diplomats.[2][3] Both moves have fanned tensions between the two countries. Meanwhile, gold production in the Democratic Republic of Congo may fall. The country's mines minister rejected mining companies' proposals regarding mining code in exchange for higher royalties. Time will tell how negotiations will affect future gold supply. Supply and demand is a major gold price factor.
Many of the situations that drove the pullback in gold prices have seen temporary resolutions but are all vulnerable to future developments. This dip is unlikely to last, making now a great time to buy gold at a bargain price.