Forecasts of gold returning to a bull market may have seemed rather exaggerated following the pummeling that gold took in the final trading week of June. It's been a bad month for gold thus far as all the value gained in the week prior dribbled out, leaving the price of gold yet again trading below the $1,200 per ounce threshold. If gold can mount a strong recovery, it's not clear when we can expect the good times again.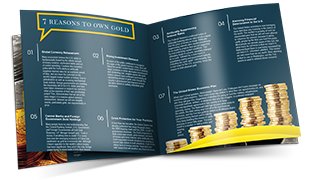 Learn everything you should know about investing in precious metals.
Request the Free Guide
Gold had a downright awful day on Monday to open up the trading week. The precious metal fell by no less than fifteen dollars per ounce, over a full percent, to close out the day at just $1,185. Improvement in homeowner economic statistics provided the downturn for gold and an upturn for treasuries. Although gold was the big loser, the price of silver didn't follow suit as it often does, instead climbing by about ten cents.
Tuesday went from bad to worse. Another big day for the dollar meant another bad day for gold, dropping by ten dollars per ounce to close out the trading day at just above $1,175 per ounce. With just 127,000 contracts trading hands, there appears to be a bit of a conservative attitude for both buyers and sellers: not too many are interested in buying gold at the moment, hoping to see if the price falls, while selling low isn't as attractive an option.
Come Wednesday, gold fell yet again, hitting a two-week low point as the world paused in order to size up the Greek EU situation. Traders are waiting for news of a default or a repayment plan in order to guide their investments. Saxo Bank's commodity research head Ole Hansen noted the various headwinds against gold, but remarked that the range-bound nature can probably continue as gold hits bottom-barrel prices near to $1,170 per ounce.
The Grexit news kept gold down on Thursday as well, unable to rise above $1,175. It wasn't just gold that felt the heat, either, with palladium dropping to two-year lows and silver losing half a percentage point of value.
Friday gave gold its only positive performance of the week but the metal climbed by less than two dollars and closed out at $1,175. As the Shanghai market allows traders on the other side of the world to invest remotely, gold news showed that the Chinese trading market had the highest number of exchanges on record.