It was a good week for gold, with gold prices reaching above $1,125. On Monday, gold began its upward journey after oil prices continued their dramatic decline and stock markets proceeded in a tumultuous fashion as well. Continued weak economic signals from China, amid rampant global economic tensions, signaled gold as a safe haven fund once again.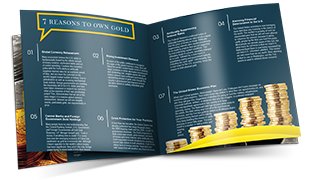 Learn everything you should know about investing in precious metals.
Request the Free Guide
Gold prices neared a one-week high Tuesday. Global economic troubles lend indication that the Federal Reserve will not be aggressive with their continued raise in interest rates over the next year, a bullish factor for gold. The FOMC held a two-day meeting Tuesday through Wednesday and as expected did not raise interest rates at this time, allowing them to remain at 0.25-0.50%. Further interest rate hikes could occur in March, but some analysts think that because of economic trends across the globe, it could be pushed back to later in the year.
Wednesday was the highlight of the week for gold, as the yellow metal shone brightly at a 12-week high around $1,125, supported by a weaker dollar and the abovementioned expectations of a slower interest rate schedule.
Traders took their gains on Thursday, causing the gold price to retreat slightly. The Federal Reserve did not announce new rates but did indicate they would be going forward with higher rates later in the year, despite market volatility. Gold retreated back down to around $1,115 levels.
By Friday, gold had risen slightly after U.S. economic reports showed that fourth quarter growth had balked. Gold has risen around 5% during January.