Nearing the end of the year, Monday morning opened with gold prices down around $10 to $1,066.30. Crude oil fell more than 3% over the weekend, and gold was therefore under pressure from that influence, as well as a Federal Reserve report from the Dallas branch that revealed rising factory activity in the manufacturing sector. The dollar was up slightly, and trading volume was low due to the previous and upcoming holiday weekends.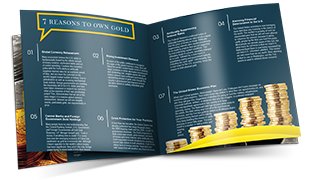 Learn everything you should know about investing in precious metals.
Request the Free Guide
Tuesday morning saw gold move upward on higher oil prices and a flat dollar, but lost those gains by the end of the day. By Wednesday, oil prices had dropped again and the dollar had stabilized, pushing gold down from around $1,070 to $1,060.
The price of gold was mostly unchanged on the last trading day of the year, December 31st, and posted a 10% yearly loss, the third annual decline in a row. The last time the yellow metal was at this low point was February 2010. They key reason for this decline is an improving U.S. economy and the decision by the Federal Reserve to raise interest rates.
The stock market was closed for the New Year holiday on January 1st. Analysts at Wall Street Journal say gold prices could begin a recovery during the fourth quarter of 2016, once interest hikes are priced in. The course that gold will take will largely depend on how aggressive the Fed is with their interest rate policies. Still, buying gold is always a valuable and safe haven investment during times of economic or political uncertainty; world events could also cause a rally.