After opening Monday at $1,334.99 the yellow metal saw some light selling, with the price of gold pulling back to $1,328.94 by the close. Gold prices opened on Tuesday at $1,326.81. Buying throughout the day brought a closing quote of $1,332.16. Light selling in the afterhours resulted in a Wednesday opening of $1,328.23 and a close of $1,322.97. Thursday opened at $1,325.35 thanks to aftermarket activity, but prices dipped a bit by the close to a final bid of $1,333.27. Positive economic news contributed to another dip in the price of gold on Friday, which saw an opening bid $1,324.80 and a close of $1,320.44.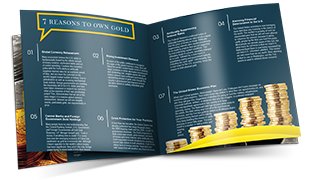 Learn everything you should know about investing in precious metals.
Request the Free Guide
The dominant market news this week focused on the economic reports coming out and ongoing concerns over North Korea. While some relief came as the belligerent nation celebrated its 69th anniversary with restraint, the launching of another missile over Japan brought renewed risk-averse buying. 1 The markets are also determining the ultimate impact of the two major hurricanes that recently hit the U.S. and the Caribbean.
The U.S. economic data was encouraging to those seeking an additional interest rate increase at next week's Federal Open Market Committee Meeting. The August CPI report came in at .04 percent after 5 months of disappointing performance – from the Fed's perspective. This number means inflation annualized at 1.9 percent, approaching the target number set by this quasi-government organization. While a rate increase normally affects gold prices and precious metals, long-term buyers of gold understand that inflation means higher gold prices.
While the Bank of England held its current rate to a miniscule .25 percent, the growing consensus is that the U.S. and other central banks are anxious to see the interest rates of all nations move back to a more rational level. The impact of moving away from this historical manipulation to provide cheap money could be bullish for gold as the equities markets lose their golden goose.
Other than unexpected geopolitical events, the Fed meeting this week will be the major factor expected to affect the markets. 2