The start of 2017 was marked by strong gold buying, resulting in a week of steady gold price increases. With the market opening a day late in observance of the New Year's holiday, gold price charts early on Tuesday reported $1,147.05. Buying intensified, sending gold prices to a weekly high of $1,182.55 on Wednesday. Profit taking kept pace with purchasing for the remainder of the week, and the yellow metal closed at $1,172.77 on Friday.
With year-end profit taking and trades out of the way, the recent rally in the price of gold is getting the attention of buyers. 1 Some long-term investors have been waiting to take advantage of lower prices to buy gold, while those concerned about the financial outlook for 2017 are seeking safe haven assets. These and other factors were in play this week, with many shorts scrambling to cover positions. 2 It is important to note the steady rise in gold prices in spite of heavy selling.
Gold's rally in the first week of the year was welcome news to gold buyers and investors who were waiting for the price to firm up. Many market observers remember that gold's low for 2016 came on January 1, and they were surely pleased this was not the case in 2017. 3
A key factor in the markets will be their ongoing reaction to the December FOMC minutes. 4 As the market fully absorbs the implications, it is clear that expectations for interest rate hikes are now just a paltry 3 percent through as late as 2019. That makes the traditional pressure on gold from interest-bearing assets far less of an issue.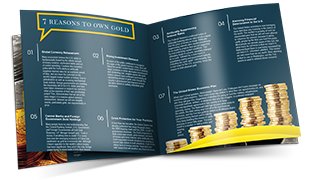 Learn everything you should know about investing in precious metals.
Request the Free Guide
The market will be watching the current trend very closely for continued buying to support the bullish direction of gold spot prices.
Additional Sources
1 – https://www.bulliondesk.com/gold-news/metals-morning-view-rallies-metals-prices-pause-as-dollar-firms-126429/
2 – http://seekingalpha.com/article/4034965-late-join-gold-rally-thoughts-based-speculative-trader-positioning
3 – https://www.bulliondesk.com/gold-news/metals-morning-view-rallies-metals-prices-pause-as-dollar-firms-126429/
4 – http://www.marketwatch.com/story/gold-aims-for-highest-level-in-over-3-weeks-2017-01-04