The week's trading left many long-term investors smiling and speculators scrambling to cover shorts. An early opening on Monday at $1,193.44 was followed with fairly heavy buying that carried the price of gold per ounce to $1,196.87 by the close. After-hours trading continued to move prices up, with a Tuesday opening crossing the important $1,200 price to $1,213.07. Profit taking and selling moved the price around until it again hit the Tuesday high just before closing on Wednesday. This set the stage for steady buying to push gold prices to a week high of $1,221.70 on Thursday. The market was strong enough to absorb more profit taking and the gold price chart indicated a Friday close of $1,220.25.
A number of factors played a role in boosting demand for precious metals. As of this week, gold has recovered more than two-thirds of the dip the new president's election triggered. This is explained in part by growing questions about the potential effectiveness of the Trump administration's efforts to grow the U.S. economy.
Political news continued to influence trading, and some attributed the late week buying to concerns over some of President Trump's international dealings and ongoing domestic issues with the opposing political party. With the appointment of the Cabinet members gaining some momentum, the market will be watching for announcements and actions from Trump's nominee for Treasury secretary, Steven Mnuchin.
On other fronts, the Fed meeting of last week raised no new concerns, although there is speculation about more aggressive rate increases if new policies, such as tax cuts, spur more rapid growth. Also, the drop in bond yields was credited as a positive force in solidifying gold prices above the $1,200 floor.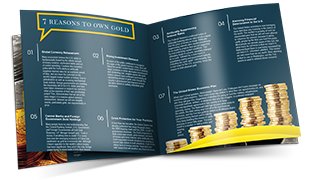 Learn everything you should know about investing in precious metals.
Request the Free Guide
More turbulence in the U.S. and world economic picture and further news on Brexit actions seem to be driving money managers to diversify holdings, according to analysts at TD Securities.
Next week's prices for gold may see a positive effect from the analysis of a new national budget for India and the possibility of a new import duty.
Technical traders and speculators will both be watching how the psychological floor of $1,200 plays out in trading in the coming week.