Markets opened the week with gold prices up nearly $7.00 over Friday's close at $1,295.11 and stayed in that lofty neighborhood all day to close Monday at $1,294.14. Tuesday's open was up at $1,295.69, but the yellow metal slipped a bit in the afternoon to close at $1,293.29. Wednesday showed promise after the price of gold opened at $1,294.63 but then pulled back to close the day at $1,285.11. Thursday continued the trend, with gold prices opening at $1,280.79 and pulling back further to a close of $1,274.83. Friday's open came in at $1,275.98, slipped in early trading, but then cooler heads prevailed and pushed the end of week close back up to $1,280.62.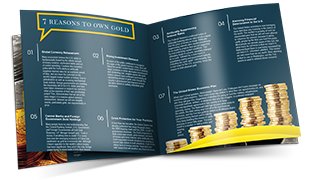 Learn everything you should know about investing in precious metals.
Request the Free Guide
The week started off with the news that Bitcoin, the most widely known cryptocurrency, had hit $10,000 in Monday trading, less than two months after it hit $5,000. 1 Just hours later, the cryptocurrency blasted through $11,000 after comments from Fed chair nominee Jerome Powell  were taken as supportive of a future for cryptocurrencies in general. Sentiment was mixed however, as luminaries such as Nobel Prize winning economist Joseph Stiglitz and Bob Diamond, the outspoken founder and CEO of Atlas Merchant Capital and former CEO of Barclays, both urged caution. Powell's comments continued to make news beyond Bitcoin as the week continued, as he testified in his confirmation hearings that the problem of banks being 'too-big-to-fail' had at this point been essentially solved and signaled a rate hike at the December meeting of the Fed board. 2 3
Diplomatic tensions were heightened after news broke of another North Korean launch of an intercontinental ballistic missile near the coast of Japan. 4 Last August, President Trump warned the North Korean government that "fire and fury like the world has never seen" would result from threats against the U.S. Analysts claim the launch demonstrated the North Koreans' ability to strike as far as the east coast of the United States. Such political threats usually place upward pressure on gold prices.
The week then wrapped up with more news on the GOP tax plan. While President Trump visited Missouri to plug the merits of the plan, graduate students across the country staged protests against the plan due to its proposed changes to the treatment of graduate student tuition waivers. 5 6 Meanwhile, pressure mounted on GOP representatives to get the bill through both houses of Congress.