Gold opened the week around $1,335 per ounce after last week's second positive employment report in a row. July added 255,000 new jobs, which sparked equities and brought down the price of gold.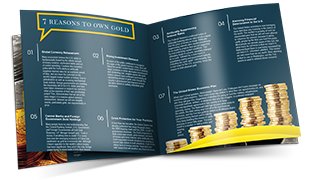 Learn everything you should know about investing in precious metals.
Request the Free Guide
CME Group's FedWatch tool raised the possibility of rate hike in September from 9% to 18%, and the possibility of a rate hike in December from around 30% to around 40%. Many investors still do not anticipate any actual rate hikes happening until March 2017. Whether the U.S. jobs data is a trend or an outlier is up for debate, but stronger U.S. economic data could indicate a more hawkish stance from the Fed.
Tuesday was a dull day in the market, and this week in general was not especially impactful for gold. Crude oil prices sank on Tuesday, and gold prices treaded water until later in the day when the U.S. dollar index was down. Gold got a lift through Wednesday to $1,355 per ounce. Negative interest rates around the world help buoy gold prices. Wednesday's gold prices were choppy but relatively steady overall.
August and the summer months are generally slow for gold, as Asian markets prepare for the September festival season, which usually invites more gold buying. This year is expected to fare well for physical metals in India, as monsoon season has increased the wealth of farmers and consumers. Demand for physical investment gold in the U.S. has reached a new high of 1,064 tons, overtaking the last spike of 917 tons in 2009.
Oil prices regained strength on Thursday after Saudi Arabia's energy minister announced next month's OPEC meeting will focus on stabilizing the market. Friday closed out the week right around the same price point as it opened. A retail sales report was released on Friday that missed estimates and struck down a three-month winning streak for private consumption, which at least temporarily boosted gold prices during the day, and could reduce chances of a Fed rate hike.