Gold prices finished the day Monday with a modest bounce, even against slumping oil prices, to close near three-week highs. Crude oil hit $40 per barrel and the dollar index was stronger, but gold and silver continued their momentum from last week's gains. Asian stock markets were higher, and the U.S. GDP report out last Friday showed economic growth below expectations at only 1.2% for the second quarter, boosting gold prices.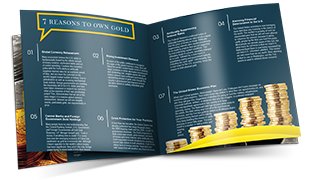 Learn everything you should know about investing in precious metals.
Request the Free Guide
Tuesday's gold price jumped up to $1,365—an almost monthly high—in anticipation of a Bank of England meeting on Thursday, in which many expected interest rate cuts to spur economic growth against a looming recession. The Bank of Japan announced $237 billion worth of economic stimulus, and the Federal Reserve is expected to not raise interest rates. Central bank policies are on the forefront of many precious metal investors' minds.
The dollar is also generally weaker lately, but the greenback rose on Wednesday, pushing gold prices down. A report was released that stated private employers added more jobs than expected in July at 179,000.
On Thursday, the Bank of England lowered interest rates by 0.25% and indicated it would do more if necessary. This was the first time the bank had changed its interest rates in 7 years, causing gold and world stock markets to lift. The bank also cut its growth forecast for the year, and the pound immediately dropped.
Gold held steady on Friday before the latest non-farms payroll report was released, but fell after it was announced that during July 255,000 new jobs were added to the economy. The price of gold closed lower, just above $1,335 per ounce.