Jim Cramer, CNBC financial expert and host of "Mad Money," is heading into 2015 offering the same advice to investors he did in 2014: buy gold in your portfolio.
A long-time fan of gold, Cramer is still touting gold as a key piece of a well-balanced portfolio. He recommends gold because when everything else is dropping, that's when gold tends to go up. This makes it a great hedge against things like inflation and other geopolitical events that may be detrimental to the equities market.
In an interview with CNBC, Cramer outlined his suggestions for a diversified portfolio. According to CNBC1, Cramer has created "five buckets of stocks that will shield a portfolio while obtaining maximum gain. He thinks every homegamer should have not more than 10 to 15 stocks, consisting of high-yielding stocks, growth stocks, speculative stocks, a healthy geographical stock and gold."
When asked how much gold a portfolio should contain, Cramer replied, "I think that 10 percent is the upper limit because I consider gold as an insurance policy and no worthwhile insurance policy should be 20 percent of the money you have invested."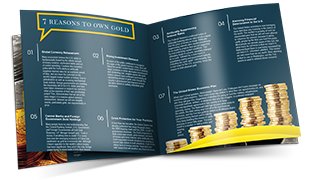 Learn How to Avoid Costly Rookie Mistakes & Invest in Gold Like a Pro!
Get Free Gold Investor Guide
Gold has not done much in recent years, but it is still worth owning. According to Cramer, "owning gold is not about upside potential. It is about minimizing risk to the downside. Do you get upset when your insurance doesn't go up in value? No. So don't ridicule gold."
He argues that you wouldn't own a car or a house without insurance, so you shouldn't have an investment portfolio without gold.
Mr. Cramer doesn't like just any gold, however. He has been a proponent of gold coins and bullion over gold stocks. In an interview last year with CNBC's Joe Deaux, Cramer says of gold stocks, "I hate the stocks. The stocks are just deadly here because refining costs are way up and the things that can wrong with gold mining are just horrendous." Gold coins, however, "are integral and I have shifted from GLD, which I don't trust anymore. Gold bullion, gold coins I want to use that decline to get in for people who don't own any gold because I like it as insurance."
So how does Jim Cramer suggest you get the yellow metal into your portfolio?
"You could call your broker and buy bullion, the actual physical bars of gold, as opposed to the bouillon cubes I like in my soup."
Learn more about investing in physical gold. Read: Bullion vs. Numismatic Coins: What You Should Know Before Investing