"We could have explosive moves [in gold]."

– Precious Metals Advisors Damian White
There's been no shortage of speculation over where the economy is heading over the next few weeks and months. However, not many people are focusing on one of the most important assets in economic recessions: precious metals. There's a reason investor have been relying on these wealth-preserving assets for centuries.
Watch the video to find out what Precious Metals Advisors Damian White & Todd Graf are saying about the current economic turmoil and why gold prices are primed for explosive growth.
The Fed Continues Rate Hike Strategy
This week's highly anticipated Federal Reserve meeting saw interest rates increase by 0.75% which is on the higher end of expert predictions. In the face of skyrocketing inflation, the Fed clearly felt the need to raise interest rates even quicker than they had initially targeted. This is the largest increase the Fed has ever implemented after a single meeting.
Currently, our financial leaders are doubling down on a strategy to make it more expensive to borrow in the hopes of taking liquidity out of the system to lower inflation. Unfortunately, these moves come too-little-too-late as the Fed's loose monetary policy is what put the economy in such a tumultuous situation in the first place.
Americans Suffer from a Delayed Response
There's been a culture of irresponsible spending dominating the government for years. Leaders on both sides of the aisle have had no reservations about dipping into the income of everyday Americans to throw money at problems instead of developing actionable solutions. The massive bubble created by this reckless spending finally popped after the pandemic.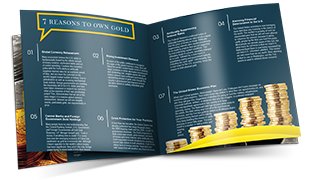 Learn How to Avoid Costly Rookie Mistakes & Invest in Gold Like a Pro!
Get Free Gold Investor Guide
Now, the American people are suffering the consequences of this poor financial policy as the Fed implements aggressive interest rate hike strategies to make up for their past inaction. With inflation showing no signs of stopping, future rate hikes are inevitable. In fact, Fed leader Jerome Powell expects another 0.75% increase in July.
China's Secret Bank Run
Given the US's dependency on foreign countries for production and the power of the greenback on a global scale, what happens around the world has a major impact at home. China – the world's second-largest economy and one of our largest trading partners – has been facing obstacle after obstacle, putting more strain on the US economy.
Just recently, China has been experiencing a massive run on its banking system as people desperately try to preserve their wealth from an untrustworthy government. This story hasn't been picked up by Western news outlets yet, but the implications are still evident. Bank runs exacerbate the liquidity problem we're facing right now.
Gold is Primed for Explosive Growth
In the midst of all this economic turmoil, smart investors are increasing their precious metals investments. These proven hedges against inflation tend to raise in value as inflation increases. Just this week, gold prices jumped over $20 an ounce1 within a few minutes following the news of the Fed's decision to increase rate hikes. This is a micro-example of gold's relationship to inflation.
As economic conditions continue to tighten, gold prices are primed for explosive growth in the future. Since it's impossible to time the market, it's prudent for investors to buy their gold and wait rather than waiting to buy gold. If you'd like to learn more about how gold and silver can protect your wealth, request your FREE COPY of our informative Precious Metals Investment Guide today!