'Everywhere you look, the world is a mess and that is going to drive gold prices higher.'

— Afshin Nabavi, head of trading with MKS Switzerland.1
With Great-Depression-era levels of unemployment and an unwieldy virus threatening the nascent global economic recovery, it's clear this recession is much more severe than the last. It's no wonder then that gold prices eclipsed their 2011 record high of $1,921 per ounce. The price of gold soared to $1,944 an ounce in early morning trading on Monday, July 27, 2020 (update: Gold prices continued soaring, hitting a session high of $1,980.77 an ounce on Tuesday, July 28, 2020.)
The demand for safe havens wasn't limited to the yellow metal: silver prices shot to $24.21 per ounce on Monday, July 27, 2020 and a session high of $26.20 on Tuesday, July 28, 2020. So far this year, gold prices are up 30% and silver prices 35%.2, 3
Gold's Record Rise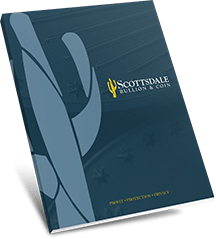 Everything you need to know to get started in Precious Metals
Learn how precious metals can strengthen your portfolio, protect your assets and leverage inflation.
Request the Free Guide
Gold and Silver Market Movers
'The fall in US 10 year real yields is primarily being driven by an increase in US 10 year inflation expectations.'

— Vivek Dhar, mining and energy commodities analyst at the Commonwealth Bank of Australia.4
Easing Monetary Policy

Among the factors driving gold prices higher, analysts say the Federal Reserve's monetary easing is likely the biggest. Lowering interest rates diminishes the returns on U.S. government bonds and weakens the dollar, two of gold's rival safe-haven assets.2 Printing billions of dollars and injecting them straight into the economy—the hands of Americans—increases the risk of inflation. Gold is the time-tested hedge.1,4

Escalating U.S.-China Tensions

First the multi-year trade war and now a full-blown cold war on accusations that China's negligence triggered the global pandemic: tit-for-tat forced foreign consulate closures in place of trade tariffs; and fiery speeches by the Secretary of State warning China that the U.S. "will no longer tolerate Beijing's attempts to usurp global order."4 Geopolitical risk keeps rising.

Rising Number of COVID-19 Cases

Across the globe, coronavirus cases climb. In the U.S., which accounts for about 25% of the 16 million cases, the resurgence of the virus has slowed or altogether stopped economic recovery as brick-and-mortar stores and businesses are forced to shutter again. Experts at the CDC predict COVID-19 will be one of the top 10 leading causes of death in 2020.5
How Soon Until $2,000/Oz Gold and $50/Oz Silver?
Amid this tumultuous and uncertain economic, financial, and political climate, many experts think gold and silver prices have more room to run.
Before this current rally is over, Marc Chandler, chief market strategist at Bannockburn Global Forex, thinks the price of gold could reach $2,500/oz.1 Even big banks predict that +$2,000/oz gold is possible in 2020.
As for silver prices, $50/oz is not far off, assert analysts. That would make now a good time to buy silver.
Unprecedented Times. Unprecedented Prices
Safe havens rule when the only certainty in the world is uncertainty.
With weak returns on government bonds and the dollar, gold and silver are proving to be the true safe-haven assets right now.
Demand, already surpassing supply insofar as gold and silver dealers are again reporting shortages, has one direction to go: Up. And prices for gold and silver with it.
Don't wait to protect your portfolio with gold at these lower prices. Get in now before they climb even higher. Give us a call today at 1 (888) 812-9892 to speak with a Scottsdale Bullion & Coin advisor.