"What the Fed's doing right now, there's no checks. There's no balances. There's no budgets. You try running your checkbook like that—how long is that going to last?"

— Eric Sepanek, Founder of Scottsdale Bullion & Coin
Picture it now: your portfolio nearly bursting with skyrocketing stocks. Your bank account just about exploding with cheap money. Light-switch easy interest rates. Sounds pretty good, right?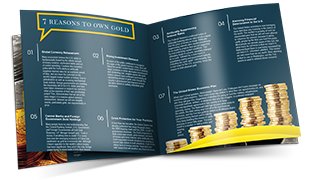 Learn How to Avoid Costly Rookie Mistakes & Invest in Gold Like a Pro!
Get Free Gold Investor Guide
Until you get the $27 TRILLION bill from your lender.
You wouldn't have it, right? But that's exactly how the Fed runs America's finances. And why it's just as responsible for all that fast money Wall Street loves as it is for every recession and depression this country's ever seen. (See more on this from Eric Sepanek on AZTV's Mike Broomhead Show. Watch the video above.)
Don't leave your financial future up to the Fed.
Take control now with the most tangible asset and time-tested store of wealth: Gold. Request your Free Gold Investment Guide here.