Gold news this week focused around discussion about whether or not the Federal Reserve will raise interest rates this year. Monday morning saw the gold market take a dip, after the weekend's comments from Fed policymakers. Representatives from Wyoming made statements indicating an intention to still raise interest rates by the end of the year, despite worldwide economic troubles, such as last week's global stock market crash, "Black Monday." However, by the end of the session Monday, gold prices had recovered on strong oil prices and a weaker dollar.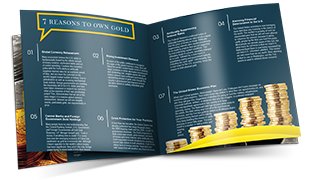 Learn everything you should know about investing in precious metals.
Request the Free Guide
Still, no one is certain about exactly when the rate hike will occur. Tuesday speculation put the expecting timing around December. Gold remained strong and touched a one-week high of $1,145 as global stock markets faced more tumult and the Dow Jones lost 400 points. China's stock market showed a 1.6% loss on poor manufacturing data, which dragged European markets down 2%.
By Wednesday, gold trading had slowed down, with traders sitting on the sidelines in anticipation of Friday's U.S. jobs data. Gold prices retreated slightly on the stock market's rebound and the dollar's subtle rise of 0.5%.
China's markets were closed Thursday and Friday on holiday. On Thursday, the price of gold retreated from its earlier one-week high to hit a one-week low of $1,122, suffering from a recovering dollar and downward revision. Friday's U.S. jobs report revealed that 12 million jobs have been added since 2010, and analysts' expectations that the Fed will raise rates this year strengthened based on this news. Gold closed the week below $1,120.