Last Friday's seven-week high left gold in a pretty solid position when trading opened Monday. Monday's gold trading range held fairly steady around $1,150 as gold maintained its safe-haven stance amid "Black Monday" news from China—the Shanghai Composite fell by 8.5% to erase all 2015 profits, the factory sector is shrinking at its fastest rate in more than 6 years, and both Chinese and Japanese stock markets fell to significantly low levels. The price of gold held its range, though dipping slightly as traders sold off the yellow metal to cover losses in stocks. Meanwhile, both the dollar and crude oil were at lower ranges.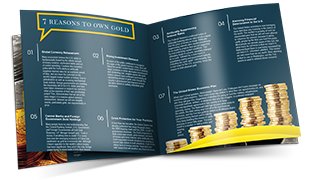 Learn everything you should know about investing in precious metals.
Request the Free Guide
Tuesday saw gold enjoy a slight spike in safe haven trading after the shockwaves from Monday, but then a one percent loss for the day after U.S. and European stock markets rebounded in the sharpest rally of the year.
Despite China's economic troubles and the lingering question about the Federal Reserve pushing its rate hike back, gold prices struggled to maintain their footing mid-week. The yellow metal usually reacts strongly in a positive direction during times of high economic stress. One reason for the lack of movement could be that the gold market is more fixated on U.S. policy than the Chinese economy. Also, the dollar and equities experienced strength, which pushes gold lower.
Thursday's gold prices saw slight improvement after New York Federal Reserve president William Dudley remarked on Wednesday that the case for raising interest rates in September was "less compelling." The positive news for gold was tempered by strong U.S. economic reports and a higher dollar, capping gold's rally. Friday maintained some steady gains, rising slightly on consolidation and sideways commodities trading.