Monday opened the week by dropping to levels last seen mid-August, after a mixed bag of U.S. jobs data Friday revealed no solid indications of whether the Fed will raise interest rates this month. The dollar also steadied, further pulling gold prices down. Meanwhile, in China, data has been revealed that the People's Bank is actively growing their gold bullion reserves, even as the stock market struggles to recover.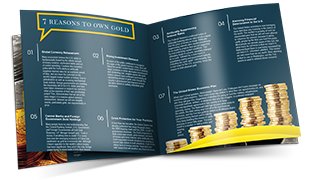 Learn everything you should know about investing in precious metals.
Request the Free Guide
U.S. traders celebrated the Labor Day holiday on Monday, but returned to the markets Tuesday and gave the price of gold a little boost. China's imports were shown to have contracted during August, igniting hopes that government might implement stimulus measures. Still, traders were hesitant to jump all in to gold before the FOMC meeting scheduled for the following week. Physical gold demand also remained subdued.
Wednesday's gold prices fell to a four-week low as the dollar and stock markets gained strength. Traders generally treaded water from there through the end of the week, upon the growing belief that the Fed would push back a rate hike until December. Economic conditions are just "too uncertain," according to Jonathon Butler, analyst at Mitsubishi.
This week, it came out that central banks are withdrawing their gold from the Federal Reserve, which could be a sign that governments wish to protect their assets in case of a looming financial disaster. By Friday, gold closed out on its third consecutive weekly fall as investors continued to speculate about a potential Fed rate hike. September 17th is the next scheduled FOMC meeting.