Gold went through another week where gains and losses just about cancelled each other out, but a week in which the price of gold never crossed the all-important $1,200 per ounce figure. As the U.S. dollar and the stock market seem to grow weak, it should be an ideal opportunity for gold, yet the metal hasn't yet hit major highs like investors have been hoping.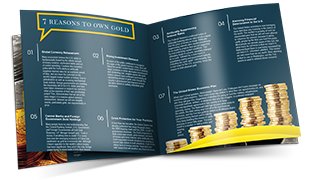 Learn everything you should know about investing in precious metals.
Request the Free Guide
Monday saw gold open from the previous week at a low point of $1,178. While gold rose only slightly throughout the week from that figure, Monday proved to be a good gain. Edward Mier of FCStone's commodities research noted that he believed the low point of $1,175 per ounce to be a "closing break," with the dollar's decline offering gold support going forward. Gold climbed a full ten dollars per ounce on Monday.
Tuesday saw gold get desperately close to the $1,200 figure without ever touching it. June Comex gold rose to $1,192 per ounce, while the price of silver rose as well. The growth in metal commodities was believed to be partially tied to the growth in oil, which hit $60 per barrel on Tuesday for the first time in 2015. A report stating that gold demand in India will rise over the next year, by around 8%, proved helpful for long-term investors.
Wednesday proved a particularly poor day for gold. The gains of the week fizzled out as gold dropped nearly $20 per ounce. A price rally began prior to the release of Comex trading figures, but the rally lasted less than twenty minutes before gold took it on the chin. Total trading volume was particularly poor at only 91,000 total contracts.
Thursday saw modest improvement as gold gained around five dollars per ounce. The gains came on the belief that the Fed would reconsider raising interest rates later in the year, but the speculation didn't have enough power to put gold up significantly.
Friday closed out gold at $1,187, or about ten dollars earlier than when the metal started the week. All metals on the trading block had such modest improvements: platinum climbed 1.2%, silver 1%, and copper remained steady.  Bigger changes are likely to occur next week when the Treasury Department releases its budget on Tuesday.