It may be too early to declare gold in a bull market, but the week of the 16th to the 20th did a lot to improve morale in the gold community. A steady week of solid gains pushed the metal up over $30 per ounce, climbing towards the all-important $1,200 per ounce threshold.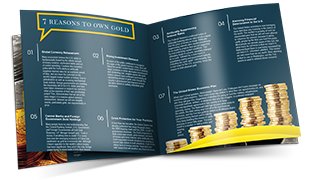 Learn everything you should know about investing in precious metals.
Request the Free Guide
Monday saw the greatest fluctuation in the price of gold, both positive and negative, with no overall gain by the conclusion of trading, swinging $5 down and $10 up. Gold futures improved .4% on the COMEX division of the Mercantile Exchange, in part thanks to the continuing questions about Greece and the Euro. Morgan Stanley pushed their odds of a Grexit up to 30%, resulting in a fear of Euro failure.
Tuesday proved to be the worst day of the week, opening at $1,155 and dropping to $1,150. The slight loss can be attributed to the Israeli election, with Netanyahu's re-election believed to be an indication of health for the shekel.
Wednesday saw the start of a short-term boom, climbing no less than thirty dollars in the span of a single market day. Gold climbed thanks to the Federal Reserve announcing a rate hike for the U.S. dollar, leading to gains on the back of currency devaluation. The UK's Metals Focus analysts indicated that negative rates in real dollars would push investors to look toward valuable metals like gold and silver.
Thursday saw another day of climbing. Like Wednesday, the climb came on the back of the Fed announcement and the dollar index dropping, while the Euro gained slightly. Gold reached the "important low" of $1,177, according to DailyForex, indicating the health of the metal overall.
Friday closed out a strong week and the best performance of gold in all of March, climbing to $1,182 per ounce. It failed to continue to climb as rapidly on account of the dollar index growing by 1.2%, even though the Euro fell considerably, and even dropped to below $1.05 for the first time in twelve years.