Open: $1,283.00 Close: $1,293.10 | High: $1,303.80 Low: $1,283.00
Following last week's gold buying surge, this week continued the upward trend for the yellow metal. Gold has gained almost $60 in the past two weeks, due to a few key influential factors: new Swiss economic policy, continued economic troubles in the Eurozone and a flocking to gold as a safe investment amidst unstable central government policies.
Monday was the Martin Luther King, Jr., day holiday. Gold prices had dipped over the weekend due to the worst drop in Chinese equities in six years, investors cashing in on gains from last week and anticipation of the European Central Bank meeting on Thursday. The ECB was expected to begin a quantitative easing program. However, Monday still netted overall gains, as market volatility sent more traders to the safe haven of gold. The dollar also experienced a $5 drop.
Tuesday showed nearly no change in the price of gold. Wednesday, however, was a big day for the precious metal as gold peaked above the $1,300 mark on a soft dollar and unrelenting global economic concerns. The financial market was generally nervous about the ECB meeting on Thursday, when the bank was expected to unroll a QE program. This sort of inflationary policy would likely increase demand for gold as a solid store of value.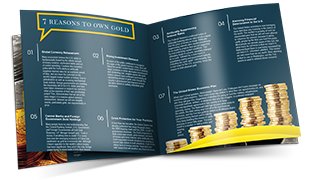 Learn everything you should know about investing in precious metals.
Request the Free Guide
Sure enough, on Thursday, the ECB did unveil a larger-than-expected monetary stimulus package, but gold did not rally as significantly as some may have hoped. The ECB launched a multi-billion dollar bond-buying program, similar to the United States' QE program, and in response, the dollar rallied, which held back price gains for gold. The euro hit a fresh 11-year low.
On Friday, Goldman Sachs released an announcement that they were raising its 2015 price estimate for gold by $62, while slashing estimates for other base metals, particularly copper and aluminum.
Goldman Sachs explained, "The primary reason for the changes to our forecasts is cost deflation – driven by a combination of actual and anticipated U.S. dollar strength, cheaper energy and other input costs, and our expectation of an improvement in mining productivity."
Gold ended the week with a net gain of around $10 per ounce.