Open: $1,238.70 Close: $1,228.20 | High: $1,238.70 Low: $1,217.90
Gold dropped in value during the early part of the week but made up ground on Thursday and Friday based on the relative bear market for currencies that has been driving the prices of gold and other precious metals upwards. The prior week saw the price of gold drop after the release of US employment statistics indicated an upward trend in the dollar and February 9th started with a continuation of the trend.
One factor that's been responsible for the general gold slowdown on Monday and Tuesday has been the slowdown of the Indian economy. Since India imports more gold each year than the next two nations combined at nearly 800 tons. India's strong GDD growth has slowed down a touch, dropping below 5% for the first time since last summer, which in turn negates their demand for bullion and causes value to dip. The Indian Central Bank cut inflation rates to keep their currency pacing well; Barclays economist Rahul Bajoria 1 noted that "with inflation expectations sharply down, there was no further reason to keep rates as high as they were."
By Wednesday, gold prices stabilized and gained a small amount. The short position declined by just over 7%, making the metal more appealing to long-term investors. The US Mint released a sales report that noted they had sold 1500 troy ounces of the American eagle gold coins, while COMEX depositories reported moving just under 2000 troy ounces on the same day.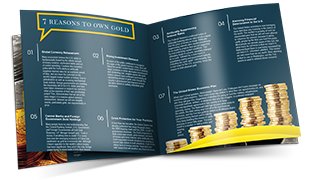 Learn everything you should know about investing in precious metals.
Request the Free Guide
Thursday saw gold shoot up based on the strength of higher crude oil prices and a lower dollar index. While prior economic data indicated solid recovery that drives down the price of metals, reports on lower retail sales (having dropped to 3% growth from 4.5% during 2015) made currency bulls pick up gold. Thursday also saw the conclusion of negotiations between the EU and Greece on the nation's future in the Eurozone; with no conclusive progress on the talks, both the US and European stock markets had a lukewarm day. The lack of agreement is good for gold: Edward Meir at INTL FCStone noted that "if a temporary agreement is reached, we very well could see the next 'shoe to drop' as far as gold is concerned."
Friday proved to be the best day for gold investors in the entire week. A bounce up to the closing price of nearly $1230 per ounce indicated a successful buying opportunity for a wide swath of investors. The SPDR Gold Trust released the figures for the current holdings: with 773 tons, they've now got the most physical metal in their clients' ETF accounts since September.
Additional Sources
1 – http://www.msn.com/en-ph/money/finance-economy/india-cuts-interest-rate/ar-AA8ceAv