With gold leaping about between Monday and Friday, it's hard to tell which direction the metal will be trending in the near future. Gold ended almost exactly where it began at the conclusion of the week but large swings of nearly $20 in both directions gave investors heartburn throughout the trading period.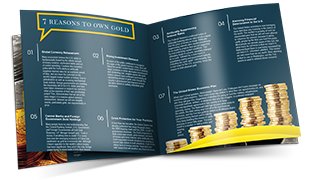 Learn everything you should know about investing in precious metals.
Request the Free Guide
Monday saw the price of gold rise to close out the trading day on a six-week high thanks in part to a Friday employment report from the Department of Labor citing less-than-impressive statistics, with only about half of the estimated 250,000 jobs available having been filled. Gold peaked on Monday at $1,218, having climbed over $50 per ounce in the past month.
Tuesday saw the gains fall even though gold stayed well above $1,200 an ounce. Gold dipped partially thanks to comments by the New York Federal Reserve office in which William Dudley noted that inflation rates would not be raised in the near future. HSBC economist Kevin Logan was quoted as saying that he believes "a weaker U.S. dollar provided underlying support for bullion."
On the third day of trading gold dipped again to close out Wednesday at $1,204 an ounce. The drop followed a rise in the dollar index on the London market from the day prior. Throughout the day gold only ran an eight-dollar range, meaning that there were much fewer highs and lows than in an average day of trading. Net trading volume of gold proved particularly light, furthermore, with only 80,000 contracts changing hands.
Thursday would be the worst day of the week for gold, sinking the metal below the $1,200 mark to close out at $1,193 per ounce. The fall comes thanks to the Federal Reserve's committee decision to commit to raising interest rates come June, claiming that economic data indicates the need for adjustment come mid-year. Global reserve currencies grew on the news by about 1% overall.
Gold rallied on Friday to close out the week at $1,204 an ounce, just a $4 difference from where the metal started the week. The total rise can be partially attributed to Euro-denominated gold climbing thanks to the ongoing questions about the Greek stay in the Eurozone and the resulting implications on their currency, even though the dollar's performance continues to act largely as an anchor on the precious metal.