Open: $1,217.40 Close: $1,223.00 | High: $1,233.00 Low: $1,208.00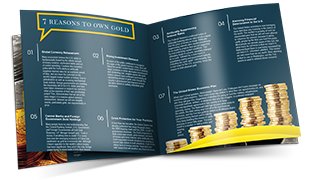 Learn everything you should know about investing in precious metals.
Request the Free Guide
Monday opened the week mostly unchanged from price drops over the weekend. The U.S. dollar hit a 14-month high on Monday, while China's finance minister announced the country would not put forward any economic stimulus plans—bearish news for precious metals.
Though news on the geopolitical front has been quiet lately, leaving gold to swim at a nine-month low, Tuesday broke this pattern with news of America's air strikes against ISIS in Iraq and Syria. Tumultuous world events curb investor risk appetite and heighten safe trading; gold prices ended solidly on Tuesday.
Wednesday saw a decline in gold prices, likely because world events have not hit a crisis point yet. The major news in gold trading is still the strong economic recovery in the U.S., led by the dollar's four-year high. Both Germany and Russia put out statements on Wednesday that the areas were not expecting economic growth for years to come.
Thursday experienced a drop in gold prices at first, as the dollar continues its economic ascent, but the yellow metal recovered by the end of the day. September is gold-buying season in many Asian countries, and people tend to buy more physical gold in anticipation of the festival season. Short covering also played a role.
On Friday, some economic reports put out by the U.S. spiked consumer confidence to the highest level in a year; combined with a rising dollar, this resurgence of faith in the U.S. economy pushed gold down to end the week on a lower price point than it began.