Open: $1,235.00 Close: $1,237.70 | High: $1,244.20 Low: $1,222.00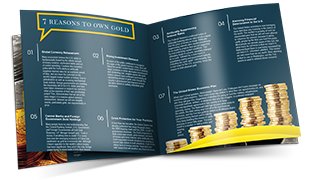 Learn everything you should know about investing in precious metals.
Request the Free Guide
Gold opened the week on a four-week high, continuing gains from the previous week. The U.S. market was closed for the Columbus Day holiday, so there wasn't much movement, but the price of gold perched above $1,230 and ended the day on a high note. Trouble in the global economy has pushed the dollar down, and so traders have been returning to gold as a safe haven investment.
A worldwide economic slowdown is a bullish factor for gold. Germany downgraded its economic growth projections on Tuesday, and the European Union is generally facing sluggish economic growth. The Ebola outbreak and dropping crude oil prices all contribute to a risk-averse marketplace, which is a positive factor for gold. The yellow metal retained its gains on Tuesday and continued the climb into Wednesday.
Wednesday's gold prices hit a five-week high on more safe haven demand. Some U.S. economic data came in lower-than-expected, and reports from China indicated high rates of inflation. There is some anticipation in the marketplace that the Federal Reserve may kick up quantitative easing in the near future in order to spur a waning global economy. If this should happen, it would almost certainly mean more attention for gold.
Thursday ended the longest gold rally since August, as some selling off stabilized the price of gold. Considering the recent gains, however, the sell off was moderate, indicating a renewed interest in holding onto gold as a hedge against inflation.
Gold dropped slightly on Friday as U.S. equities regained a spotlight in the stock market, but still ended the week higher than it began, marking the second week of gains in a row.