Open: $1,207.40 Close: $1,223.10 | High: $1,231.00 Low: $1,205.70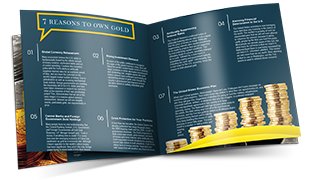 Learn everything you should know about investing in precious metals.
Request the Free Guide
This week opened with gold trading at the lowest level since June 2013 from overnight selling, but the yellow metal soon picked up to close the week with a significant gain. Monday morning the dollar was trading lower than usual and this was the beginning of a bullish week for gold.
The greenback has been robust for the past few months, which pushes gold down, but showed a different pattern this week. Gold ended the day session fairly higher on Tuesday, primarily because of short covering and bargain hunting. World news may have lent a small hand; the International Monetary Fund reduced its world economic growth estimate and the European Union also released dismal economic reports. These two factors contribute to a risk aversion attitude in world trading, which is bullish for gold as a safe haven asset.
Wednesday was the end of China's Golden Week holiday, which meant that the world's second-largest economy was back at work. The gold market generally expects physical buying (coins, bars, jewelry, etc) in Asia around this time as the holiday season approaches. Significantly, the Federal Reserve's minutes from Wednesday's September report revealed the Fed's concern about the lack of world economic growth. There was also indication of lower interest rates for some time, which was interpreted as positive for gold. The European Central Bank also announced some details about the quantitative easing program recently begun—all contributing to a weak outlook on the economy, which supports an interest in gold.
Then, on Thursday, gold jumped up to a three-week high once traders had digested the FOMC meeting notes from Wednesday. Janet Yellen, President of the Federal Reserve, had stated that interest rates would remain low for "considerable time" while the dollar continues to gain strength. This is definitely bullish for gold.
Friday maintained the growth from Thursday to end the week solidly above the $1,200 mark. Some think that last week's plummet below $1,200 marked gold's current bottom.